If every day you go in Google Photos to remember the photos and videos that you've done a day like today in the past then you're in luck. Google makes it easier with their new novelty.
Photo by Sergey Zolkin from UnsplashWell, Xf...

What is Inat Tv Pro?Inat Tv Pro APK for Andr...

The cryptocurrency market has exploded in po...
Memories is the novelty of Google Photos with the, which replaces the cards in the wizard "Rediscovers this day", a new section that will allow us to relive our best memories.
Memories of Google Photos
Google Photos has been inspired by the stories of social networks such as Instagram to show us anything more you open the app, at the top, is stories with the best photos and videos of previous years.
If you're using Instagram the design and operation of these stories will be familiar to you. At the top we see a horizontal list of stories from previous years. When clicking on a story will play, showing the photos and videos of each year.
Google Photos allows us to hide the stories or certain photos or videos that appear on her through the options of your menu.
yes, these stories are totally private, so only we can see them. To see our contacts we have to share them with them through the option "Share with…". There we select from that service and which contacts we want to share our memories of a particular year.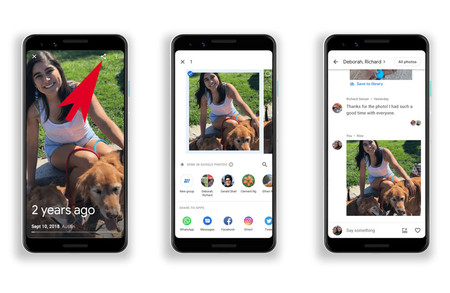 This novelty begins to arrive starting today to all users of iOS and Android. We just have to have the app from Google Photos updated to the latest version and wait for us to activate this new feature during the next few hours or days.
Via | Google
we Also recommend
Seven alternatives to Google Photos to automatically save in the cloud the photos and videos from your Android
Google the Photo Book comes to Spain: so you can buy your printed book from your favorite photos
How to edit the focus and add the effect to Color Pop in the photos of the Pixel and Nexus
–
The news Google Photos launches 'Memories': their new stories that will show you the best photos and videos of previous years was originally published in Xataka Android by Cosmos .

Xataka Android
Google Photos launches 'Memories': new stories that will show you the best photos and videos of previous years