Expand this topic:
X Best Services for Students
pixabay.com The student often has to write reports on laboratory work, write essays, and explanatory notes. In this ...
From today to February 24.
Rockstar has announced that GTA Online , the multiplayer aspect of Theft Auto V Grand Theft Auto V , open a new event related to contact missions, which will double the usual amount of $ GTA and RP.
the new weekly event, will be available until February 24 , will offer more amounts GTA $ and RP to complete these missions. In addition, the 25th of the same month, all contact missions offer double rewards. Ammu-Nation will also enjoy special discounts along these days. Below you will find a detailed schedule of contact missions and rewards.

Weekly Calendar for bonuses and incentives (from 19 to 25 February)
Friday February 19 : $ GTA twice and RP in all missions contact more double Simeon GTA $ in applications for import and export . Simeon
Saturday 20 February. GTA $ twice and RP in all missions contact Ron plus 50% discount on all Blazers
Sunday, February 21. GTA $ twice and RP in all missions contact Trevor plus 50% off oil drums
Monday February 22 $ GTA twice and RP in all missions contact Martin plus 10% discount in houses on stilts
Tuesday February 23. GTA $ twice and RP in all contact Lester missions plus 25% discount on services
Lester Wednesday, 24 February. $ GTA twice and RP in all missions contact Gerald plus 50 % discount on microsubfusiles and machine guns
Thursday 25 February. $ GTA twice and RP in all missions contact GTA Online
<. span class = "highlighted"> Theft Auto Online for Grand Theft Auto online is a multiplayer mode that is designed as an independent game GTA V , while sharing the same city in its history mode. The game is available on PlayStation 3, Xbox 360, Xbox One, PlayStation 4 and PC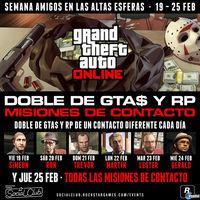 GTA Announces New Online contact missions and rewards
Source: english
February 19, 2016