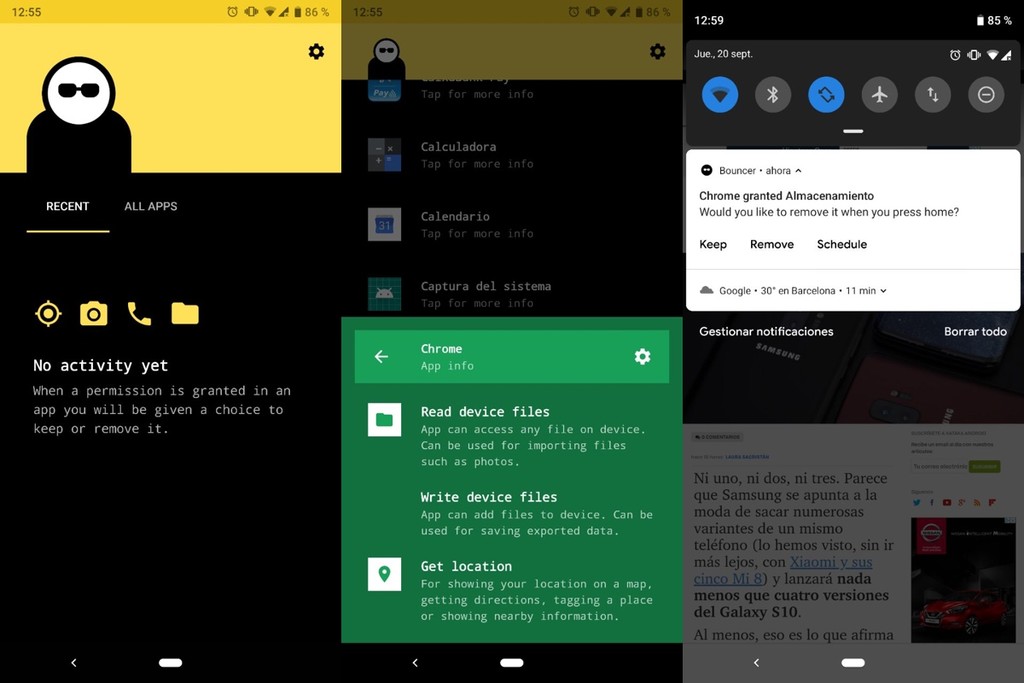 Manage the permissions correctly on the Android is important. There are times that we are not interested in an app to access your location or contacts, for whatever reason. From the settings we can accept or deny these permissions. However, if we want to change it again we will have to go again to the settings and change it manually. Today we bring you a new application that allows us to schedule the permissions, a small trick that will be very useful for those users who are accustomed to look at the permissions.
Bouncer is an application created by Sam Ruston and available on Google Play for 0.89 euros. A small price to collaborate with this careful developer. We will explain how it works and what we can serve.
Schedule permits, a choice that should be based on Android
At start-up Bouncer we ask permission accessibility. This is so because the application is able to remove permissions by itself after a certain time which we will mark. In the main menu we have a list of our applications and messages about the permissions that have admitted or denied the application.
When you click on an application you will see a list of your permissions, and then is when we can remove it. Here the options are divided in several situations.
on the one hand, we can make an application to have access to the permit location or camera, but when clicking on home, miss. The app also will remember this option and the next time we open the app will terminate the permission immediately after you use it. This is very useful if for example we want to save battery and to not give the permission of location to Twitter or Instagram.
the Bouncer has dark theme and a very simple design. It also allows you to filter by permissions and the app itself does not require additional permissions.
Although the function that more use will be the schedule permits. When an application asked for access, we can accept but also choose the time, from 30 minutes, one hour, six hours or a whole day.
Bouncer – Temporary App Permissions
–
The news How to accept or deny permissions on Android temporarily with Bouncer was originally published in Xataka Android by Enrique Perez .

Xataka Android
How to accept or deny permissions on Android temporarily with Bouncer
Source: english
October 1, 2018