Android has its options for developers, and also Google Play. In both cases is the same: menus semiocultos with tools they are generally not useful for the user to walk, but rather for developers or advanced users.
Google Play opens options for developers. It is not a full menu, like in Android, but settings that only appear after the mode is enabled. At the moment there is only one option for developer available, although it is expected to increase in the future.
The same trick of always
Google has not decided to reinvent the wheel for the options for developers of Google Play: are activated in the same way that the Android. That is to say, you need to open Google Play, unfold the side panel and enter in the Settings section of. After, tap seven times on top of the Version of Play Store.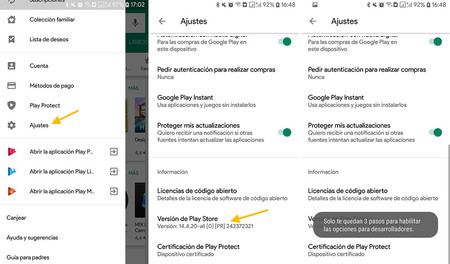 you Should play relatively fast, because in the opposite case, the window is displayed, indicating if the version of Google Play is updated or not. You will receive a notice when you are few taps, as well as when we finally have been activated.
After enabling the developer options, it is not possible to turn them off, at least for the moment. Anyway, taking into account that it is a single option, there are not many reasons to need to disable them.
Share apps internally
After you activate them, the options for developers are added to the settings menu next to the other, so that it is difficult to know what is new and what is not. At the moment only adds a single option: Share apps internally.
Sincerely, the option name is a bit confusing, since it seems that you're the one that shares applications, while it is the other way around. This setting is used for you can download and install on internal testing shared through Google Play, but that are not available to the rest of user.
These internal testing were introduced by Google in 2018, and limited to one hundred users. These versions of the app do not spend any control on the part of Google, and its goal is mainly share versions unfinished with team members of an easier way than sending the APK. This was already possible before, so that the adjustment for developers is a bit enigmatic in and of itself, but it is possible that in the future it is obligatory to activate to install these internal tests.
In any case, the new share option internal testing is not the most interesting subject, but the fact that Google Play now has also his options to developers. You will have to watch to see if in the future they add other options useful for advanced users.
Via | Android Authority
we Also recommend
Google will begin to review all the apps for Wear I uploaded to Google Play
These are all the deaths that would have suffered without technology
Google Play bans apps that undermine criptomonedas, duplicate, or full of advertising
–
The news How to enable developer options on Google Play was originally published in Xataka Android by Ivan Ramirez .

Xataka Android
How to activate the developer options in Google Play
Source: english
April 12, 2019