The water marks allow you to a photographer, group, or company place a distinction in the image that you know who is authoring. It is a very common practice on the internet when you want to preserve the value of the copyright in an image that surely, on the basis of quality or interest, scroll through the web and is widely distributed.
There are users to favour and against but beyond that we want to devote this article to how we can add watermarks on our photos from the mobile phone or Android tablet. Luckily, there are numerous applications that allow you to in a way really simple to add them, adjust their size, position, color and shape. If you only have your smartphone to hand and you want that your images are recorded with your logo, we leave you with our recommendations.
How to work the application to add watermarks
We have chosen three applications for this small tutorial. On one hand we have Add Watermark, which is available in a free version and a paid version of that for 2,39€ becomes one of the most complete. Then 'watermark picture' with publicity, and some limited, but very useful. And finally Salt, focused on adding the logo in the photographs and is also quite effective.
There are distinguish between those that allow us to simply add a text and which allow you to choose an image. The first will help us to write a message and place it on the site that we want, but the interesting are the latter. In the case of Xataka Android for example, what we have is a .png with the logo of the website.
All applications allow us to select the size and location of the logo, but not all, allow us for example to rotate the image easily, edit it in a simple way to set transparencies. For this last point, the only one that truly is designed to configure these details is the paid version of Add Watermark.
Another difference between the free version and the pro is that in the first we will only be able to save the images as a .jpg of 1024 pixels. More than enough on many occasions but a limitation in the end.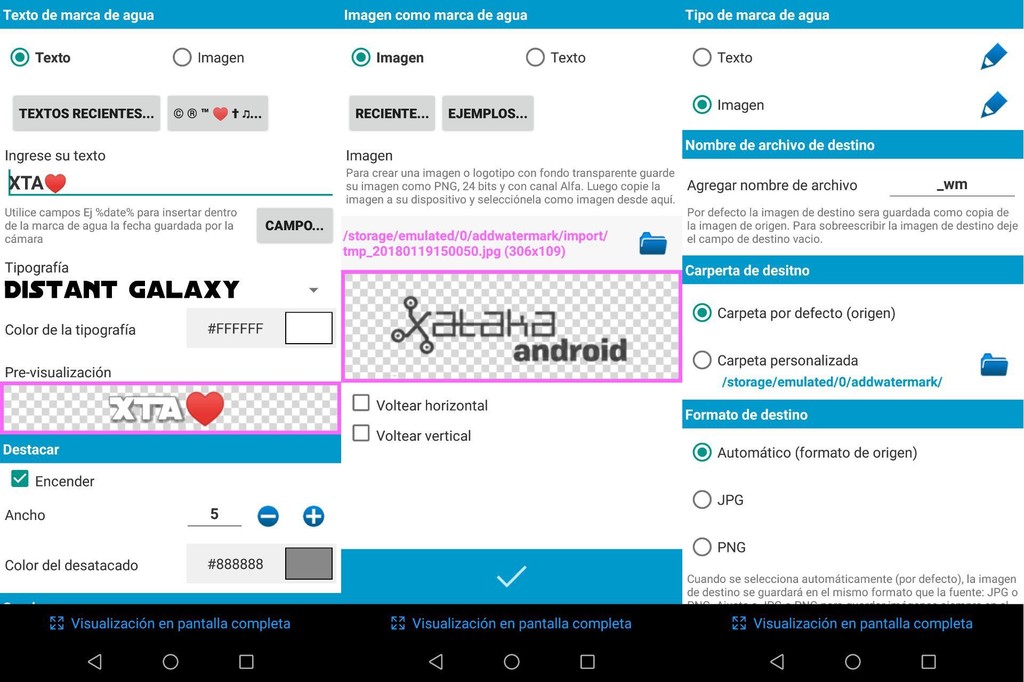 In the paid version you can add stickers, is compatible with panoramic and we can quickly access 20 brands of water that we have used previously. An application full designed also for tablets or Chromebooks, where now the Android apps are becoming more and more relevant.
Here we leave the links to Google Play so that you can freely download these apps to add watermarks. Add the logo as we see it is very simple, it is another thing to make a good picture by the worth add the logo.
Add Watermark Free
Varies with device
the watermark in the Photo
1.27
SALT – Logo on your photos
Varies with device
In Xataka Android | Six applications to optimize and compress photos from your Android phone
–
The news How to add watermarks on your photos from an Android mobile was originally published in Xataka Android by Enrique Perez .

Xataka Android
How to add watermarks on your photos from an Android phone
Source: english
January 19, 2018