Our Android mobile can be a great tool, especially for those users more creative. Today we bring you a small collection of applications to create postcards, covers and images with text. If you want to design an image with text to share social networks like Facebook or Instagram, with these apps you'll be able to do so easily and in many cases free of charge.
Some of the templates of these apps are paid, other are simple are free. All of them allow us to add a text over an image and configure the size and type of letter to do it so eye-catching. Here we give you our four recommended applications. We hope that some of them will convince you and help you to make original creations and fun.
Canva
it Is one of the apps recommended on Google Play. Canva has more than 60,000 templates to be able to add the text, change the orientation and the type of letter. The most interesting thing is that all the designs are very original, the interface is very easy to use and the images are exported at good quality.
Canva
Kafka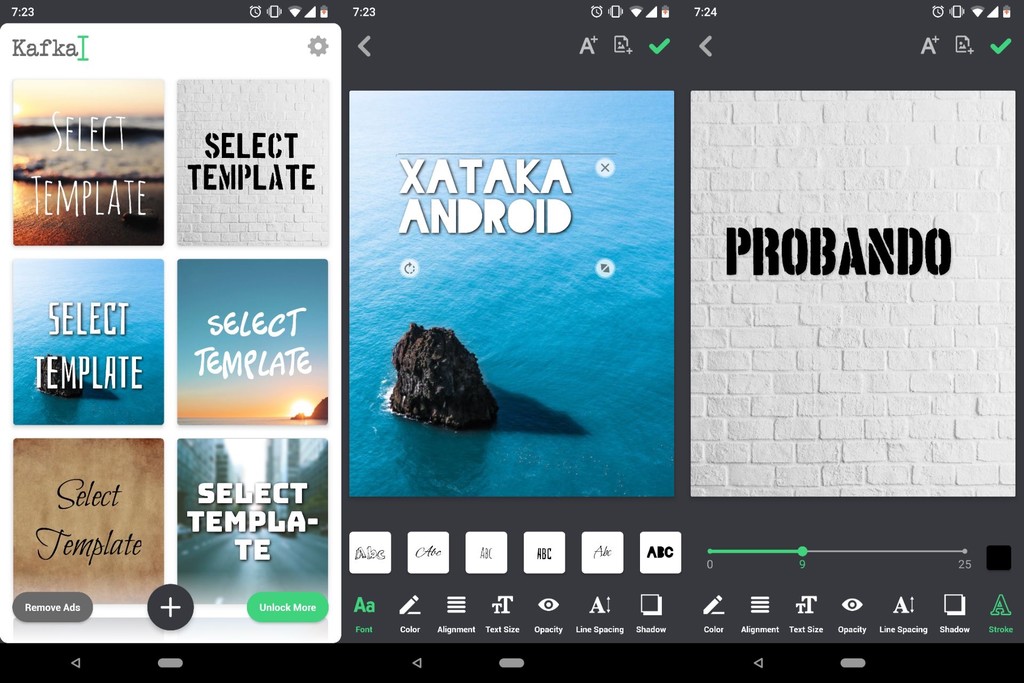 Kafka is an application surprising. We have a large number of available templates of high quality where we can add text in different fonts, expand the color, position, add shadow… the only thing that we have to keep in mind is that the quality end once the store is reduced, so that it won't serve us if we want to use it outside of a social network.
Kafka
Fontee
Fontee is an application that allows us to make postcards in a very simple way. We have filters, scenes, portraits, and food, various fonts presets, and add stickers. We also have a shop with templates more elaborated, although in this case we must proceed to checkout.
Fontee
Desygner
The last application has a model of payments more transparent. The application itself indicates what templates are free and which are paid, among which will template premium free to register in the application. Once inside, we can choose the text, change the shape, font, and add various elements.
Desygner
In Xataka Android | Color and draw: eight applications to create Pixel Art from Android
–
The news How to create postcards and images with text from the Android was originally published in Xataka Android by Enrique Perez .

Xataka Android
How to create postcards and images with text from Android
Source: english
May 20, 2018