The new interface Discover is already here in our country after several months of waiting. Google improves their feed offering under its new design, more controls to see just the topics of most interest to us.
If you want to discover how is the new** Discover Google** and how to customize the cards don't miss our tutorial.
this is Google Discover
Google Discover is the evolution of the Google Feed, the main screen of the Google application. Here we discover news and articles on the issues we may be interested in.
Google take advantage of our search history and pages visited to find out what are the topics of most interest to us. We will display news items under its new card design that come , headed by the topic of the article.
The menu card allows us to hide that news, to stop receiving news on this topic, stop watching the news on a particular publication, or customize Discover.
More controls
One of the main innovations of the new Discover is the new control found in the bottom right of each card with the icon of a small slider. When tapping that new icon we can tell Google if you want to see more or less cards as well as that. It is possible that we are interested in a particular topic but not to receive news about a sub-theme in particular, so with that option we can tune up the news that most want to receive.
Follow the themes that you like
Customize Discover you can tell Google manually all of the topics that most interest us to receive from that moment on, related news. Find a great range of topics on sports, television, movies, music, economy, lifestyle, technology, public figures and more. You can use your browser to subscribe to a particular topic.
Your settings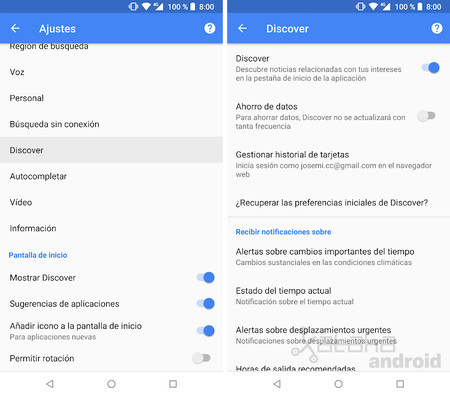 In the application settings of Google, in the section Discover, you can turn off this new feature, activate the saving data not to update so frequently the cards in the background, manage the history or reset the preferences to initial Discover.
Google
Varies depending on the device.
we Also recommend
How to block and mark as spam a contact in your Pixel, Android One and Nexus
When the technology helps in the motherhood (without load more stuff)
How to analyze the photos from your gallery with Google Lens
–
The news How to customize the new Discover Google for Android was originally published in Xataka Android by Cosmos .

Xataka Android
How to customize the new Discover Google for Android
Source: english
December 15, 2018