In our phone we have a host of options that, when the time comes to use them, a lot of people do not know how to activate it. One of them is the diversion of calls, or said in other words, the ability to redirect an incoming call from one number to another.
luckily, Android allows you to do this in a few steps, and with the possibility of choose if we want to divert all calls or just do it in certain circumstances. Below, we'll explain how you can activate and deactivate easily the call forwarding from one number to another in an Android mobile.
Choose when you want to divert calls
Although it is also possible to redirect calls to another number using a, the easiest way is to do it from the phone itself. To do so, simply open the phone app and click on the icon of the three points that we will find in the top right corner.
In the drop-down menu, we need to select 'Settings', enter in the option 'Accounts' call (in some versions of the OS, and in certain layers, it is possible that it appears as 'Calls') and, in the case that it is a Dual SIM device, choose the card corresponding to the number in which we want to activate the call forwarding (in our case, Movistar).
The next step is to click on the option of 'call Forwarding', we will propose four divert options different:
Divert always.
Divert when you are communicating with.
Divert when no answer.
Forward when it is switched off or out of coverage.
once we have decided what is the option that most fits our needs, the only thing we are missing is to click on it, is enter phone number to which we want our calls to be diverted and give it to 'Activate'.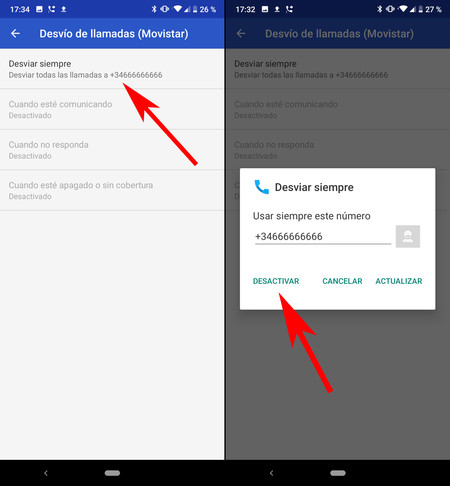 of course, it is possible to select the turn off at one or two options. And to turn it off on any of them, simply follow the same steps, touching on the diversion that we have activated and mark 'turn Off'. If what you want is to change the number that will be redirected, simply enter a new number and click on 'Update'.
we Also recommend
Google will limit access to call history and SMS of Android apps, and other changes to the 'Project Strobe'
How to create ringtones with vibrations that are customized to each contact mobile
How to block a number hidden on Android
–
The news How to divert calls from one number to another in Android was originally published in Xataka Android by Laura Sexton .

Xataka Android
How to divert calls from one number to another in Android
Source: english
October 8, 2019