The popular game Fortnite it has finally come to Android, and although it is not in Google Play, you can already download and install official from the page of Epic Games, its creator. The limited exclusivity of three days has expired, so that now your installation is open to all over the world.
To all over the world… with a phone that meets with the minimum requirements, although there are many today, at least includes terminals popular as the latest flagships from Samsung, OnePlus 5 or higher, LG G5 or higher or Xiaomi Mi 5 or higher. If you have one of those mobile phones, you can download Fortnite for Android, but until you're den high in beta not what you can play.
1. Download the installer
Fortnite is not available in Google Play, but you have a application pitcher in a similar way as to the has for PC. To avoid problems, it is highly recommended that you download this installer only on the official website of Epic Games, that is to say, from this link. First tap on First steps, then click Download.
Waiting for it to finish downloading the file and then open it from the notification itself or from the application of Downloads of your mobile. Before installing it is quite possible that your phone will ask for permission to install applications from third-party applications, which you will give to continue.
Open the installer after the install, excuse the redundancy, and it may be two things. If your mobile is among those compatible with the game, you can press Start, which will begin the download and installation of the game itself. If not, you will receive a notice letting you know that your mobile phone is not compatible, for now.
If your mobile is compatible, I'm afraid there's not much more you can do for now except wait. You can see the list of devices that are not supported yet, but will be soon, aquí. In the future will be added.
2. Waiting for it to download the game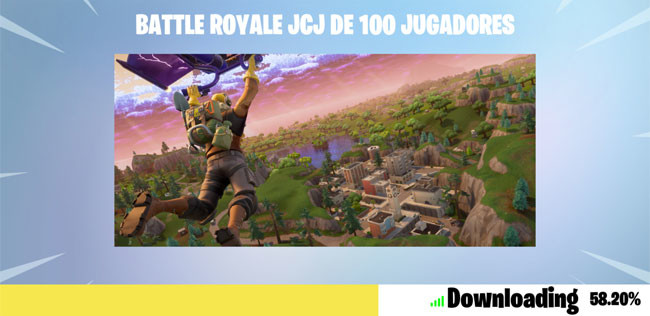 By now you do not need to do anything more, except to follow the directions and wait for it to finish downloading the game. Keep in mind that takes up almost 2 GB, so it may take a good while. To avoid surprises in the invoice, make sure that you are connected to Wifi and not using your data plan.
3. Logs
The game will open as soon as you finish the download and installation, but expected that we have not yet finished. You need to log in with your account Fortnite, and if you still don't have an account, you'll need to create it. You can start session with your account of Fortnite from Epic Games, Facebook, Google, PlayStation, Xbox Live, or Nintendo Switch.
you Already have it all ready to go, but you're still depending on which Epic has enabled the game to your account. If so, you'll be able to start playing without more (always and when there is no error, and that is that remember that it is a beta). In the opposite case, a message invites you to sign up to the beta. And we recommend that you do as soon as possible, as they can take weeks to be added.
In Xataka Android | Google Play lets you know that Fortnite is not available in your store
–
The news How to install Fortnite for Android was originally published in Xataka Android by Ivan Ramirez .

Xataka Android
How to install Fortnite for Android
Source: english
August 13, 2018