call Recording can be done on Android since years ago, however the system itself does not allow us to do so directly. Here we leave a small guide to learn how to record any phone call you make or receive on your mobile.
because that call is important, it is an interview, you want to save data say, or you simply want to have a memory and record of what you say on the phone. We'll explain how to record calls through specialized applications. Are free and work very simple way.
How to record calls on Android
The layers of customization does not add the option to record calls. In some yes we have seen it, but the first step that you need to do is download any of the following applications that we recommend.
Another detail to keep in mind is about the legality of call recording. In Spain it is perfectly legal as long as it is not displayed publicly without the consent of the other person. If you are recording a call, always you should notify that other person even if it is out of courtesy and to avoid misunderstandings but as long as it is for personal use you can record. In other countries the legality may be different, so we always recommend to warn the other person that his recorded is to be recorded.
call recorder – ACR
One of the most popular applications for recording calls on Android is ACR – call recording. It is a free app although it has a Pro version for 1,99 euros which we will be able to upload these recordings to the cloud.
The install it will prompt us for a variety of permissions, including access to the audio. From the side menu of the application will activate the call recording. Once activated you simply must make a call, and we will display a notification is recording.
This call will appear in the main menu where we can reproduce it, share it, add notes, or delete it.
From the application settings we can configure many details, is record the calls only to certain contacts, choose where the files are saved or autoeliminar the conversations of old.
call Recording – ACR
Varies with device
Developer: NLL
Download: Google Play
Price: Free
Category: the Productivity
Recorder calls CallX
CallX is another very complete application for recording calls in Android. It has a design Material Design and very easy to use. Again the operation is similar to the rest; give it the permissions, activate the recording and the call we be recorded automatically.
you Can choose between MP3 or WAV, to limit the amount of space for the memory and upload the conversations to Dropbox or Google Drive. In addition, we have associated a series of gestures, for example to record when you shake the phone. CallX also lets you select favorite contacts, screen calls, and that let us add a note, right after hang-up.
call Recorder automatic callX
4.5
Android Version: the since 4.0
Download: Google Play
Price: the Free
Category: Company
Call recorder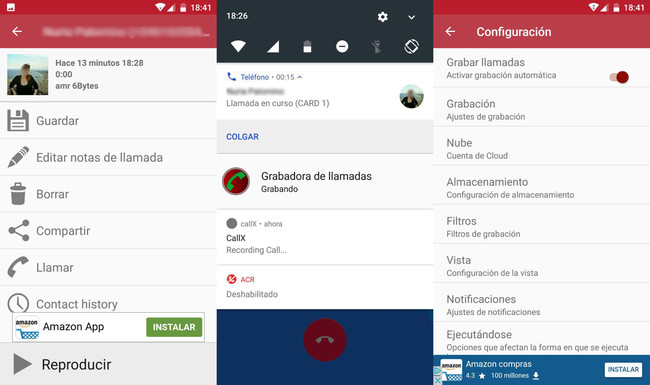 The third application is the Call Recorder. Account with a most simple design but it is also free and allows you to configure the recording of calls to our taste. With Call Recorder you can choose to record all calls, only recording those where you check it off specifically or burn all except those contacts that do not want to. From the notifications panel you will be informed that the call is being recorded.
One thing to keep in mind is that these applications call recording tend to give problems between themselves when they are active at the same time. For this reason we recommend that you only have it enabled at the same time.
Call Recorder
5.3
Android Version: the since 2.3
Developer: Appliqato
Download: Google Play
Price: Free
Category: the Tools
How to record calls from mobiles Xiaomi
One of the few manufacturers that allow you to record calls directly from your phone app is Xiaomi. If you have a mobile phone with a MIUI then you can activate this option. You'll have to go to the own phone app > open settings > call Recording > Enable recording. We will not have so many options to configure as with specialized applications, but also allows us to select " recording phone calls only in concrete numbers.
In Xataka Android | How to block a contact on Android
–
The news How to record phone calls on Android was originally published in Xataka Android by Enrique Perez .

Xataka Android
How to record phone calls in Android
Source: english
December 4, 2017