One of the priorities of the popular messaging service WhatsApp is to provide a communication environment is safe, by blocking the accounts of users that used your app to send spam and scams, but for this the company needs our help.
If you receive spam in WhatsApp we are the ones who report it for, in the first place, to block that user and we can annoy the most, and in the second place, to be kicked out of WhatsApp. When a user receives too many spam complaints your account is locked out of the service.
Report to an unknown sender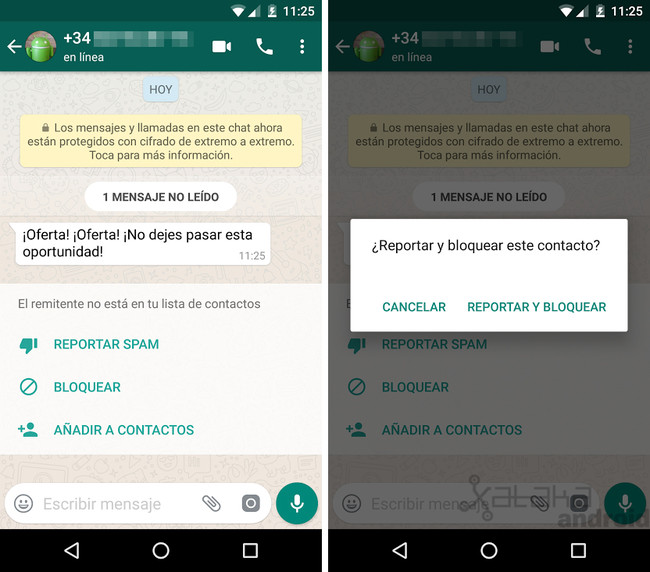 Typically the unsolicited we will receive unknown senders, as it is often unlikely that a reliable contact start to flood us our chat with spam messages.
When an unknown sender sends us a message just in the same chat window below your message because it appears the option Report Spam, also is to block the user to not be able to send more messages.
Report to a contact
If, by contrast, is a contact from our agenda, who for some strange reason has begun to send us spam, we have two ways of reporting your account as spam. In your chat window, you can go to Menu > More > Block and select Report and block. The other way is to access your contact card by clicking on your avatar and at the end of the window, click on Report spam to also block the contact.
Report to a group
As a new feature in WhatsApp and we can already enjoy from your beta version, is that we can now also denouncing the groups for spam. To do this we just need to open the information window of the group and give the option to Report spam. Also we will leave the group to denounce it. Note: the option of reporting will not appear in the groups created by us.
In Xataka Android | How to get WhatsApp on an Android tablet
–
The news How to report a user or a group of WhatsApp spam was originally published in Xataka Android by Cosmos .

Xataka Android
How to report a user or a group of WhatsApp for spam
Source: english
June 8, 2017