If you count the number of notifications that you receive over a day on your mobile, probably the number is quite high. WhatsApp, Facebook, Instagram are just some of the that typically fill our smartphone with the countless alerts with each and every action of our contacts. Are you tired of them? We already saw how to to configure them in WhatsApp, so now it is the turn of Facebook.
With this, you'll be able to reduce the notifications that you receive throughout the day on your Android. Although they are a fundamental part to know what happens in each one of the applications that you have installed on your phone without having to open them, what is certain is that can sometimes reach saturation. That is why in certain occasions it is interesting to be able to turn them off.
How to turn off notifications for Facebook from the app
Facebook lets you turn off notifications you receive inside the application only in some cases and, in general, to remove the pop-up notifications and via SMS or email on your mobile Android.
you Can turn off the notifications of Facebook on your Android mobile by following a few simple steps:
1.Open the app and tap on the icon of three horizontal stripes located in the upper right corner.
2.scroll down until you see 'Settings and privacy' and click on it, at which time it will display a panel with several options.
3.Click on Settings.
4.Slide down to find 'Notifications', where you must choose 'notification Settings'.
In that moment, you will see a new screen from which you can manage all of your notifications. You have two options, silence or disable them. In the first case, you can simply flick to the right on the option 'Mute push notifications.
When you do this, the app informs you that, although the silencies, the you will continue to see in the tab of notifications, in addition to offer you the possibility of choosing the time, ranging between 15 minutes and eight hours.
Just below, you can find the 'Notifications that you receive'. If you click on the options, you'll be able to see the detail, the type of notification that is selected.
you Must bear in mind that in some cases, as in 'Comments' or 'Tags' you can disable the notifications that you receive from the form pop-up on your mobile phone, by SMS or mail, but not within the application, so that every time you go, you will always see the notice in red color to remind you that there is some novelty in your account of Facebook.
In other options, such as 'Birthday' or 'Reminders', Facebook itself offers the possibility of to completely remove the notifications, both inside the app as we receive from the form will pop up on the Android phone, via SMS or by e-mail.
How to turn off notifications for Facebook from your mobile
outside of the app itself, you can also turn off notifications of Facebook (or any other application) from the Settings of the mobile phone. To do so, you must follow a few simple steps, but remember that these can vary depending on your mobile phone and the operating system that you use, in our case, we have used a Xiaomi Mi A1 with Android 9 Foot:
1.Opens the Settings of your phone and search for 'Applications and notifications'.
2.Click on Facebook.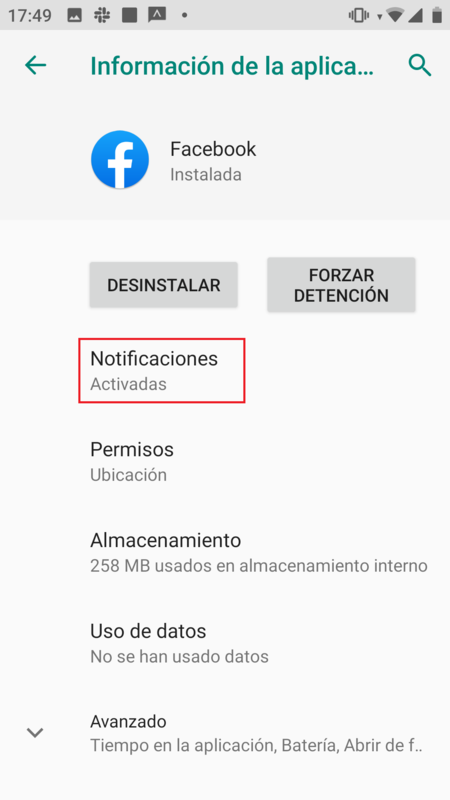 3.Click on Notifications.
4.Uncheck 'Show notifications'.
we Also recommend
How to turn on and turn off notifications for Chrome for Android
Google is loaded notifications Nearby Android because of their increasing use as spam
Google quits Reply, your app experimental of intelligent answers from the notifications
–
The news How to turn off notifications for Facebook on Android was originally published in Xataka Android by Brenda Macias .

Xataka Android
How to turn off notifications for Facebook on Android
Source: english
July 8, 2019