These insurance heights you're already aware of one of the new surprise star of this Google I / O, the Instant Android Apps , a new system by which we can open "chunks" of applications directly without installing before in your phone.
There is no doubt that since 1960, a new era...

In recent days, several videos of animals an...

The NASA and SpaceX, the company Elon Musk s...
The idea is revolutionary . Every time we have more applications installed on mobile, and this technology could allow us to dispense with those that only have "just in case". That is, those that remain to be used very occasionally and laziness not uninstall them and have to install them later.
It is still early to make a full analysis of what this will mean for the future. The technology is still developing and polishes, with the help of the developer community, and even as Android user I love the idea, I have some questions for which I hope to soon have an answer.
1. Does it interest to developers?
Several classic goals of application developers are getting the largest number of installations, keep them in the application as long as possible and prevent the uninstall. These goals are completely opposite to what you find in Instant Apps, where applications are " throwaway ".
On the other hand, it is also a possibility of achieve reach more users who otherwise would never have installed the application . It is the same case of the example mentioned in the video presentation with the application of cameras B & H . No cameras purchases every day, so you do not have this application installed. However, I am absolutely convinced that B & H would prefer a thousand times that you will install your application
that is why snapshots applications probably end up becoming entry points to sell you install the complete application . Yes, I let you see this recipe free video and quickly, but if you make the slightest additional action you have to download the complete application. From this perspective, what began as a method to gain time course and take steps, ends adding more.
2. Is this an application, a web, or what?
My father, like many others, does not know the difference between the address bar of the browser and the search bar of Google, and the Instant Apps it will face a new dilemma: what is an application and what not. Seek things in Google and eventually lost within applications . "How did I get here? This is a website?".
For now we do not know how it really is the process to open the Instant Apps or whether there will some warning or clear enough indication. In the demo video everything happens fast and efficiently without any indication, which undoubtedly confuse more than one.
3. ¿Extra work for developers?
In the información Instant Apps technique on is highlighted again and again, perhaps too often, developers should not create a different application or make big changes in the code, depending on how the application is structured . In some cases it could fit in a single day.
However, there is something that is not mentioned in this information. The deeplinks should link to something, which means in many cases the need for a web version application. An expensive option and not available to any developer. No web link no deeplink Google to index, and if you can not find it, you can not access.
4. Will it serve also to test applications
In the examples shown in the presentation of Instant Apps is not mentioned at any moment it would be for me one of the most interesting features: to test applications before finally decide to install . That is, an alleged button on Google Play to "prove" the application.
it is not something new, and in fact Google ya He has been toying with the idea , although based streaming instead of the system of Instant Apps, but streaming technology has its limitations (latency, network usage) that would not exist with Instant Apps.
5. ¿Android even more tied to Google?
At this time probably does not surprise anyone to use Instant Apps, Applications need to be published on Google Play . That is, jump through hoops of increasingly stringent conditions of publication.
The decision, however, has enough sense, for an application that runs by itself from a link could be a inexhaustible source of phishing and phishing, pretending to be a pop-up asking for your password or something similar. Presumably Google will be quite strict with applications that use this technology to avoid these situations.
6. Will you keep your data?
The examples shown by Google are pretty basic. An application that you watch a video, another to pay the parking meter and to buy a camera. Unless a better interface adapted for mobile and run full screen, offer little advantage over open a web application in the browser .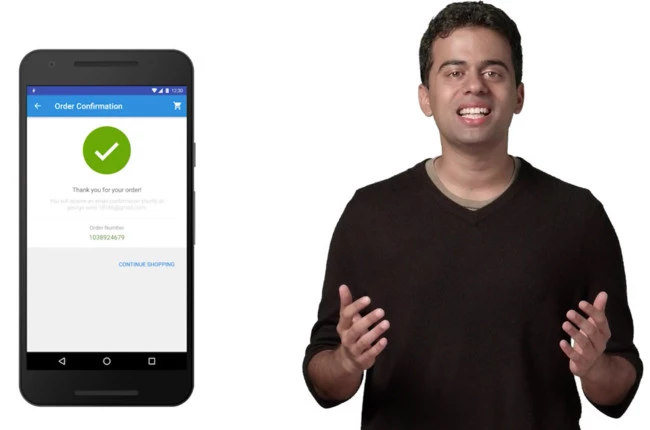 But can instantly open applications store your data? If you order a pizza from an Instant App, will you remember your address the next time you use it? By now we know that the Instant Apps have several technical limitations , as you can not use background services, notifications once the closures or access identifiers, but we know nothing about the Volatility of data.
7. How much data do you need?
Unfortunately we have not yet reached the point where we can afford to download anything without looking at its size. Many people still tied to a data packet limited , so that you do not want absolutely to download anything if not WiFi.
To open an App Instant Android, Google Play will download only the necessary module, and although this process Suresh called by the name of "instant", depending on which application is downloading can be of some megs in size and take some time. We must wait to see how and if you have the opportunity to know in advance.
And finally, when can we try?
It is clear that Android Instant Apps is a technology innovative that you will have many repercussions for now we can not even imagine, and that is why sure you're dying to see it in operation.
Unfortunately, there is no specific date on when they will be available, more beyond a generic "next year". For now, Google is working with a select group of developers, but plans to gradually expand access
In Engadget Android. | Android Instant Apps, using applications without installing them soon also be reality
–
The news Android Apps Instant bring us a rather confusing future: 7 questions that need answering was originally published in Engadget Android by Ivan Ramirez .

Xataka Android
Instant Android Apps bring us a rather confusing future: 7 questions that need answering