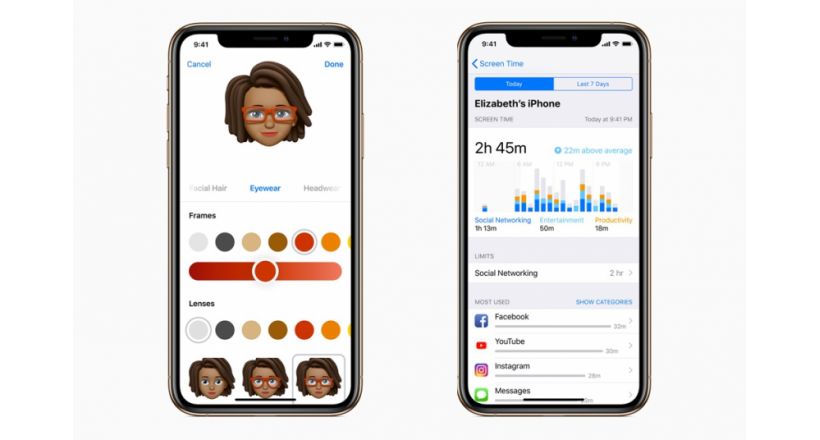 iOS 12 has already come out of its beta test phase and is available to all users of Apple computers. iOS seeks to do the tasks on the iPhone and iPad faster and with better response, with new experiences AR, new features like Memoji, Siri Shortcuts and much more.
iOS 12 has improvements in the performance throughout the system with support for a large number of devices, including iPhone 5s, 2013. The camera is activated 70% faster, the keyboard appears 50% faster and has a greater response. Some applications can be launched up to two times faster.
iOS has a platform for augmented reality that in this version has been further enhanced, with new experiences AR, object detection and dynamic tracking of images. With experiences AR shared, multiple people can play the same game, or collaborate on projects, like home renovations or school tasks. AR in iOS 12 is more realistic, by mixing the virtual world and real with support for detection and track of images, allowing to detect 3D objects and apply automatic reflexes. The files AR can be seen almost anywhere in iOS, including apps like Messages, Safari, Mail, Phillies, and News.
There are new functions to communicate with friends and family with iPhone X, iPhone XR, iPhone XS iPhone XS Max, with new Animoji more expressive characters and Memoji custom. The Memojis can be created within Messages, and to the Animojis are added to the ghost, koala, tiger and T Rex.
there are Also new camera effects that lead Animoji, Filters, Text and Stickers to Messages and FaceTime.
In Photos, new tab For You choose favorite moments in one place, combining albums of Memories and iCloud Shared Albums, and offering suggestions for sharing photos with friends. The friends receive photos also receive the suggestion to share the photos and videos you have of the same trip or event.
iOS 12 features new tools that help users to understand and control the time used for inter acting with their iOS devices. Screen Time offers detailed information and tools that help manage that time, as well as to control the time that children use the devices. The reports provide detailed information about the applications that are used and how many times is pick up the phone. The application Limits allows you to create a amount of specific time to be in the application, receiving a notification when it is about to reach the limit.
The new modes of Do Not Disturb is automatically turned off based on time, location and actions. To avoid disruption, iOS 12 offers more options to control how you receive notifications, whether silenciándolas, or lowering the volume, or by setting timetables in the coming groups.
Siri Shortcuts allows any application to work with Siri. Siri is going to learn the routines of the users and offers suggestions. The new application Shortcuts allows users to create Shortcuts to facilitate frequent tasks.
iOS 12 has improved its system of privacy and security. In Safari, Intelligent Tracking Prevention has been enhanced to lock the buttons "Like" and "Share" and the widgets of comments that can be tracked without the users permission. Safari now also creates, autofills and save automatically important keys when users create online accounts and mark the key as used for your users to be able to change.
in Addition to these new features, iOS 12 has other improvements: Apple Books is the new application that enables you to discover and enjoy books and audiobooks, thanks to the new flap Reading Now, Books Store and more. Apple New has been redesigned to facilitate the search for new channels and topics, and go directly to favorites. Voice Memos is now available for iPad and includes support for iCloud, also has new design. Apple Music has been improved, with pages artists ' pages up to date, searchable by letter, Friends Mix, and rankings Top 100.
The translator of Siri has been expanded to 40 languages and has more data on sports, celebrities, food, and nutrition. There are also innovations in CarPlay, Wallet and more.
iOS 12 is now available as a free update to iPhone 5s and later; iPad Air and iPad Pro, iPad 5th generation, iPad 6th generation, iPad mini 2 and later, and iPod touch 6th generation.
Source: english
September 22, 2018