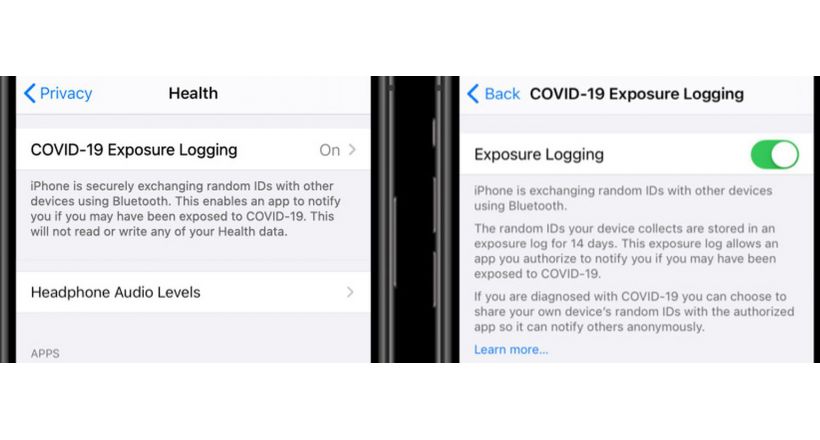 Apple released its updates of iOS and iPadOS 13.5, with developments mostly related to health and the risks of the pandemic by COVID-19.
iOS 13.5 account for the first time with the Exposure Notification API created between Apple and Google, and that has been designed to allow public health authorities to generate tracking applications contacts COVID-19 to decrease the spread of the virus. The API works behind the scenes, and it is a Bluetooth application that will be embedded in the applications created by the public health authorities of each country. Does not work without an installed application that accompany you, but Apple has added details on Exposure Logging in the Privacy section of the Settings.
There is a toggle of Exposure Logging that users can choose to shut down if you do not wish to participate in notifications of exposure if the application is installed. Up to now more than 22 countries have joined to participate and the applications that use the API will be released soon.
applications that take advantage of the Exposure Notification API will use Bluetooth to communicate with smartphones around, and you will receive notifications if you come in contact with someone who has been diagnosed with COVID-19, if the user decides to share that information.
on the other hand iOS and iPadOS 13.5 to facilitate the unlocking of the iPhone or iPad with a code when using mask. The interface for entering the code appears more quickly when an iOS device detects that the user is using a camera.
Also has been modified to Group FaceTime, adding an option that overrides the function that automatically enlarged the screen of the person I was talking about, as it is pre-configured normally. A new section in the settings of FaceTime: "Automatic Prominence" allows you to change this format, displaying to all the people who participate in the chat on a grid with windows of the same size, regardless of who is speaking. One of the windows can be enlarged with a tap on the screen.
There is a new function to share information Medical ID automatically to the emergency services when you place an emergency call. This function can be enable or disable. There is also a new option in the app Health that allows you to display information of Meidcal ID in the screen Lock when the iPhone is locked.
For Apple Music, a new feature that allows the songs to Apple Music is shared directly in the Stories of Instagram.
iOS and iPadOS 13.5 is available to devices via the application Settings. iOS 13.5 would be one of the last updates of iOS 13 before the launch of iOS 14, which will be presented at WWDC 2020
will be held between 14 and 22 June.
iOS and iPadOS 13.5 with several new features
Source: english
May 22, 2020