more than a month Ago came officially to the new version of Android 8.1 Oreo to add another important portion of the improvements and new features to the mobile operating system, but now we know that Google is revealed or activated all the new features.
This afternoon Google has just announced the release step of an important feature for the Wifi networks públicidas: to know the rate before you connect.
Speed Wifi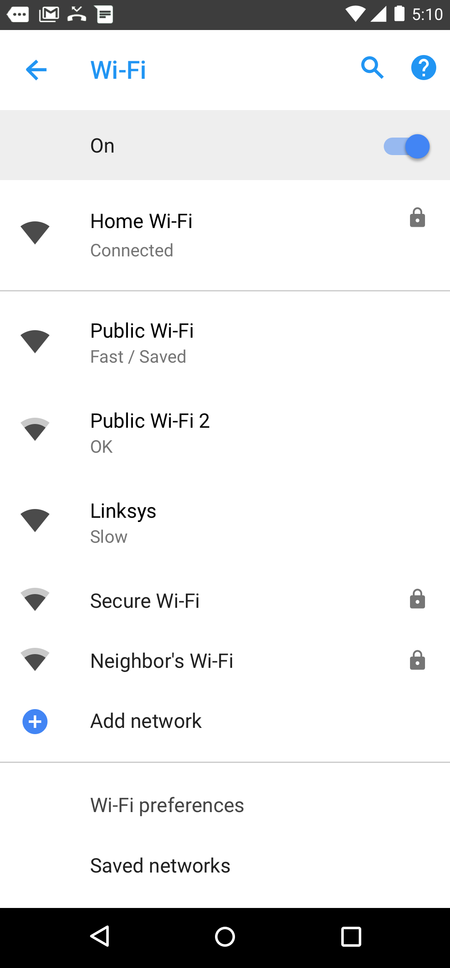 Now when we query for the list of available Wifi networks to connect our Android device to Wi-fi networks in public -without protection – we will appear just below the name of the network to a text that will inform us of the speed. We can see four speeds:
Slow: 0 – 1 Mbps. If you can use the function of call by Wifi, you can make calls and send messages.
Acceptable: 1 Mbps – 5 Mbps. You can read web pages, use social networks and play streaming music.
Quick: 5 Mbps – 20 Mbps. You can stream most of the videos.
Very fast: 20 Mbps+. You can play videos of very high quality streaming.
Google assesses the speed of each of the Wifi networks public to inform the user before you connect which of all the Wifi networks it offers higher speed to navigate.
The assessment will also depend on the intensity with which pillemos that Wifi network. When more far away we are from the Wifi network with lower intensity and lower speed, but can that same intensity we find a Wifi network that offers better speed.
This additional information that we now offers Android 8.1 Oreo is enabled by default, but is optional, we can turn it off from **Settings > Wifi > Preferences > Wifi advanced Features > Provider of valuation networks > None.
Via | AP
Xataka Android | Android 8.0 Oreo it's official: these are the 23 most outstanding novelties
–
The news this is how Android 8.1 Oreo will tell you the speed of a Wifi network open before connect was originally published in Xataka Android by Cosmos .

Xataka Android
It is as well as Android 8.1 Oreo will tell you the speed of a network public Wifi before you connect
Source: english
January 22, 2018