DANIEL G. Aparicio
The French actress spoke with '20minutes' on 'No one wants the night', the latest film by Spanish director Isabel Coixet.
The film tells the story of an upper-class woman who goes into the North Pole and must learn to live with an Inuit woman.
Juliette Binoche statements on racism and xenophobia predate the terrible attacks in Paris.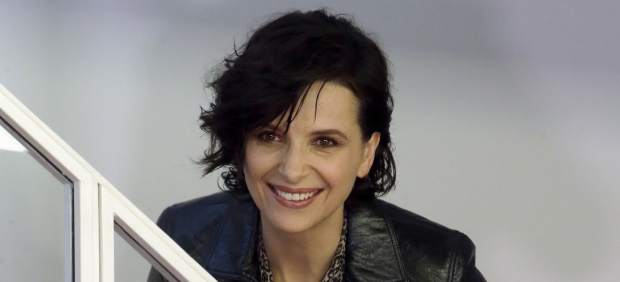 Elegant and beautiful at 51, Juliette Binoche , one of the most acclaimed French actresses of all time, visited Madrid to promote No one wants the night (27 November), the latest work by . With a look that shows intelligence and a way to express that corroborates Binoche told 20minutes the way you see the world today, a position against racism and xenophobia that despite having made before los antentados terrible Paris, does not lose its value.
No one wants the night tells of two women from very different worlds have to come to terms, Is it a good message in this world where racism, xenophobia and classism are the time of day?
Of course, that's one of the reasons why I do incredably film. Get off the pedestal of Western white supremacist who thinks he knows everything, control everything and conquer the world. There are other human beings on this earth and we must stop thinking that we are the only ones. And with the crisis that we are going, we tried to follow in the same direction and it has become clear that you can not push the planet as we are doing. Therefore, we must turn around, we have to change consciousness.
Do you feel in some identified way your character?
I hope not too much, but I forced myself to identify. I'm white, I'm Western and privileged education, like her, although I emphasize enough that the contrast with what happens after that is that it's low pedestal, moves over his education was noticing, their hopes, their desires and he manages to cope with very difficult circumstances: the cold, hunger … That situation forces her to know the experience of humility
Do you see yourself as an adventure in extreme conditions like. the movie ?, or risk doing sports maybe?
interpret is always a risky sport, I assure you. There is a physical adaptation, language, emotions, geography, conscience. There is a huge amount of change. I do not think there's any other profession that requires more transformations. Often the emotional transformation goes with the physical. It is true that this case is a bit extreme, they had no food and kept getting colder. In fact, for me the most difficult scenes were the igloo because imagine such an extent is very complex.
How has dealt ?, has affected him physically and psychologically?
The body believes what one wants to believe. In fact, after the shoot I was very fragile for a month and I was touched by the subject, but at the same time is normal because if one wants to reach the audience has to feel touched. If not, does not work intellectually.

There was part of the filming was done in the Canary Islands, is it not that a little puzzling?
If you knew everything that exists in a film that puzzles, you'd be surprised. That is called cinema.

On the other hand, it is a film intimate court. How such intimacy is achieved with a team of people working around?
In the evolution of how I work, if something bothers me outside to give something intimate ?? now are mobile, portable ?? it is my responsibility to integrate myself so there is no separation. So when a technical team begins preparing the plane I like being there in the middle of them, and watch them work. It's my way of beginning to enter the scene and then when I have that nighter, there is already a relationship made: trust, attention, eyes …
This is a film made by a woman and starring two others, is it an exception in a still very male world?
In the last twenty years I do not know exactly if has doubled, tripled or quadrupled the number but there are many more women directors. Consciences are slowly changing and producers and financial also are gaining confidence and losing prejudices. Often the public does not notice if a man or woman who makes a movie. You will see that there is something that attracts them have heard of it, the topic, the actors … I think it is evolving positively
Recently, Jennifer Lawrence denounced the wage gap. between actors and actresses. You really so?
Yes, but that's only in the movies, it happens in all professions. In some countries, your husband will not stick a beating already a great victory.
How was working with Isabel Coixet? They say that leaves a lot of freedom to the actors.
Yes, that's right. Having a director who parked the actors as if they were cars makes everything easier, and the truth is that Isabel does not care at all to park their cars-actor, but nothing (laughs). However, I think his way of shooting is so independent that always finds an interesting formula. But, as an actor is true that you usually be on the edge. You say, "what do I do now?"
ever said that in Hollywood, an actor runs the risk of losing power over decisions
.. Not exactly that. In all the movies, you have to put your trust in the director, who is going to build the film. In the arthouse must also give the director that confidence, but there is a different spiritual state.
What do you mean?
It is thought otherwise . In fact, Americans do not hide and call product. It is an industry that makes money through a product called film. The difference is that in Europe we believe in cinema as an artistic formula, it is not about money. Obviously, it is not always the case, there are Americans who also see it this way, but the juice that we contribute to world cinema is an artistic idea of ​​an author, a writer, more or less failed, or more or less intelligent, but creative. In short, there is making money while Europe product trying to lose as little as possible.
In Spain, the film people envy the French system. Meanwhile, you say you like to work with Almodóvar …
I still have wanted to work with Almodóvar (laughs). It is true that we have a system that many countries envy us, including the United States, because it allows all the film endures despite financial difficulties. It's like the kings who previously supported artists in the courts. Culture provides enrichment, is part of an identity, brings evolution, is a must.
soon appear in 33 , the movie about the miners trapped in Chile. Can move us something?
It's an ensemble film with Antonio Banderas starring in not only talking about the miners. If women miners had not been there to cry, fuss, contact with the media and show the injustice done to those men down there, the Chilean government would not have done what he did. One aim of the film is that people are aware that there are 12,000 miners die every year in physically infamous conditions. In some mines, the conditions of extraction of metals like gold, silver and coltan ?? that is in many electronic devices ?? They are execrable. It is almost a slavery.
What language was shot?
English with a Spanish accent. I would have loved to learn Spanish, but did not work (laughs).
Juliette Binoche: "The Hollywood tries to make money; the European, not lose much"
Source: english
November 17, 2015