Yesterday Alex and Urien filtered.
Yesterday Siliconera leaked the presence of Alex and Urien in Street Fighter V. Today ensures two , Karin R. Mika Kanzuki and Alpha series.
Karin first appeared in a manga and debuted at Street Fighter Alpha 3 . It was later included in Capcom Fighting Evolution . R. Mika also belongs to Alpha 3, not to appear in more games.
This means unknown when officially confirmed.
Street Fighter V It will launch on PlayStation 4 and PC and will feature game crossed between these two platforms while maintaining the usual way of combating 2D saga. The characters confirmed so far are Cammy, Birdie, Charlie, Ryu, Chun-Li and Bison.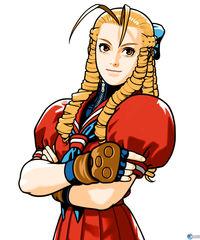 Karin Kanzuki and R. Mika could also be added to Street Fighter V
Source: english
July 9, 2015