20minutes
Are filming the remake of the legendary series of 90.
The top model went up to her Instagram account a photo with exluchador.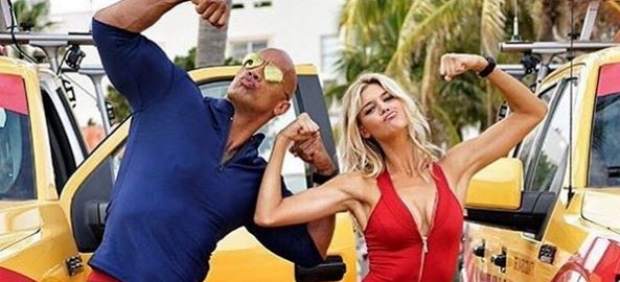 Baywatch return. Not the legendary series of 90, but a film inspired by the characters and plots of the first. The fans of the adventures of lifeguards on the beaches of Malibu and can enjoy the first images swimsuits mythical red.
Kelly Rohrbach, the supermodel who plays CJ Parker (character in the series starred Pamela Anderson), rose to his Instagram account a photo posing with Dwayne 'the Rock' Johnson , the main character actor who will skin Mitch Buchannon, the legendary chief of lifeguards that David Hasselhoff put his face in the series.
in addition to Rohrbach and the Rock, in the cast of the film are also Alexandra Daddario ( True Detective , San Andrés ) as Summer Quinn, Zac Efron ( High School Musical ) as Matt Brody or Ilfenesh Hadera ( The Blacklist ) as Strephanie Holden.
the movie premiere is scheduled for May 2017.
Kelly Rohrbach and The Rock pose dressed as the new 'Baywatch'
Source: english
March 5, 2016