So what specifies the box of the game.
we Already know how much space on the hard disk will occupy Kingdom Hearts III in our PlayStation 4. Although Xbox One will 35,8 GB, on the platform of Sony will require 40 GB free.
A player in Japan, he got hold of a physical copy of Kingdom Hearts III for PS4. In the back of the box indicates it will take 40 GB of space on the hard disk of our PS4.
直撮りになってしまって申し訳ないのですが添付致しますね!
1枚目 表面
2枚目 裏面
3枚目 必須容量など
4枚目 全体像 pic.twitter.com/2b2FFkkCiV— そらと (@soranchu0309) December 22, 2018
it Seems that Kingdom Hearts III has at least 80 hours of content. So every 2 hours of content are equivalent to 1 GB. On the other hand, you must bear in mind that the game also seems to include the corresponding improvements of PS4 Pro.
Video: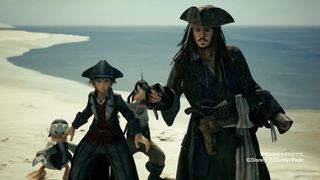 Kingdom Hearts III will be available January 29, both on PS4 as on Xbox One. To know more about the game, we invite you to read our impressions in the following link.
Kingdom Hearts III will take 40 GB of space on the hard drive of PS4
Source: english
December 24, 2018