EFE
One of the directors of the production company that leads the project has advanced to soon be ready the final script for a film to be called 'Putin'.
The film is a political thriller and filming will begin this year.
"Putin would be very, very interesting. I would love to play him," said recently the actor, who is nominated for an Oscar for 'The reborn '.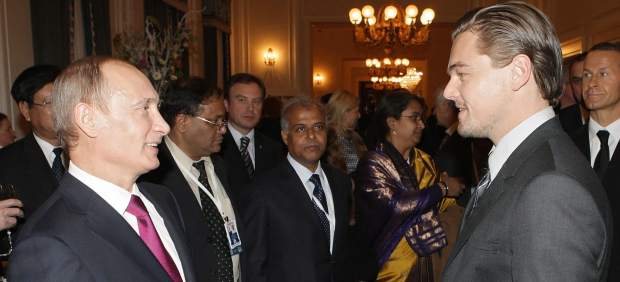 US actor Leonardo DiCaprio will play Russian President Vladimir Putin, in a film, which opens this year, said Tuesday Dozhd TV channel.
One of the directors of the producer Knights Bridge Entertainment, Valeri Saarian, said that will soon approve the final version of the script of a film that will be a political thriller and will be titled Putin .
"KGB officer prime minister and president. Man-Myth . A vision of personal life and career of one of the most influential people in the world." So the film will be explained the same sources.
DiCaprio, which aims to achieve this year the first Oscar of his career-in his fifth nominación- for his role in The reborn ( The Revenant ) by Mexican director Alejandro Gonzalez Inarritu, he has already accepted a role for which he had already shown great interest, as Saarian.
"Putin would be very, very interesting. I love to interpret . It is a fascinating thing for an actor. Lenin also would be an interesting paper. I also like to be Rasputin, "the actor said recently.
Three authors were involved in writing the script, while The director of the film "is known to all" , but Saarian would not mention the name.
Besides DiCaprio, other renowned actors and have given their approval to participate in a project that surely cause a stir in the United States , since Russia is considered by the Pentagon one of the main threats to Washington.
The film will be shot in Russia United States and Europe , and will be released in the first half of 2017, one year before Putin was present, most likely re-election after 18 years in power.
website productora" you can see the portrait of Putin , who already met once with the actor, 41, 22 unless the head of the Kremlin.
was November 2010 when DiCaprio traveled to Russia's second city, St. Petersburg, to participate in the global tiger summit.
DiCaprio lived a real odyssey to get to Russia, as one of the engines of the plane who climbed in New York to travel to St. Petersburg broke, so the unit had to make an emergency landing at John F. Kennedy airport.
"I do not think everyone would wish to continue trip, but Mr. DiCaprio is not one of them. He got on another plane, small private one, and continued his journey. As they say in our country, a real man "then said Putin
Leonardo DiCaprio will be Vladimir Putin on the big screen
Source: english
February 2, 2016