He has been teaching her appearance.
Kojima Productions , the new Japanese development studio creative Hideo Kojima , has unveiled the face of their new mascot and icon, Ludens , showing more of his appearance, after confirming his name and teach anatomy.
Interestingly, Ludens has human features , discarding some theories that spoke of an automaton, and journeying more ba concepts by Hideo described above, which spoke of man and machine as one being . The importance of Ludens as a possible protagonist of the game that prepares Kojima has failed to unravel, and in fact, GameSpot would have received even more ambiguous reply "You are free to imagine whatever you want" about it.
the future Kojima Productions title
" It will be an amazing title. along with the argument , characters and game system , because I'm generating a lot of ideas that equate same way these three elements. Some parts are very new, so I'll have to experiment with them ", has even said Hideo.
" I would not say that it is a game open world , but those who enjoy big-budget video game like Tom Clancy's The Division and Uncharted , you will find comfortable with my proposal . When you advertise, perhaps it is not what is expected, but understand once you play with it. The chosen genre is the action "said Kojima.
As I confirmed a few days ago, Kojima Productions, would be smaller than at other times study.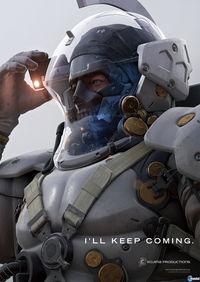 Vandal
Ludens shown the face of the 'pet' Kojima Productions
Source: english
June 6, 2016