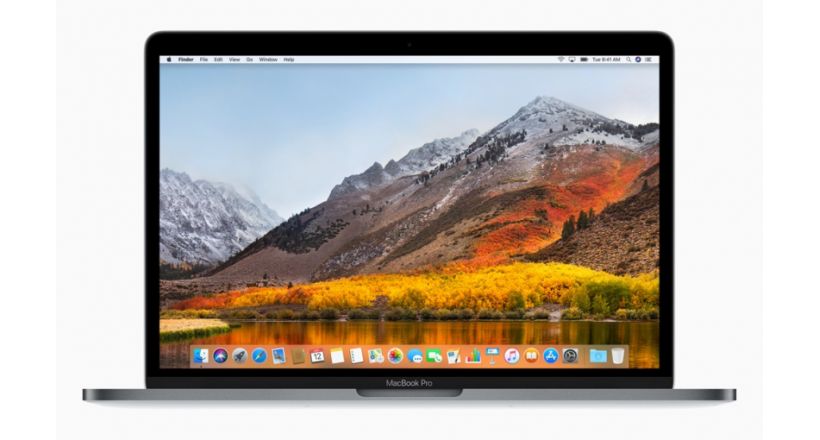 Apple announced that the latest version of its operating system macOS High Sierra, is now available as a free update. This new version provides users with new unified storage, and new technologies of video and graphics. The framework Core ML does that facilitate the creation of applications, with machine learning that predicts, learns and becomes more intelligent. Have also been improved apps like Photos and Safari.
The new system Apple File System (APFS) is a storage architecture advanced that it is extensible to support new functions and storage technologies in the future. The system offers support for storage devices of high capacity and offers performance, safety and reliability.
The operating system has support for High-Efficiency Video Coding (HEVC), a new standard that allows streaming of 4K video to occupy 40% less storage space. With HEVC Apple allows streaming of 4K video in networks in which before it was only possible to perform streaming HD.
Metal 2 is the graphics technology advanced from Apple, that allows to use the advantages of machine learning used in speech recognition, natural language processing and computer vision. Metal 2 has a API refined and enhanced performance that helps the programmers to accelerate their future applications. The combination of Metal 2 and Thunderbolt 3 offers to the most demanding users access to GPUs external.
With Core ML Apple offers the capabilities of machine learning to all programmers, allowing the creation of completely new applications. Core ML leverages the advantages of Metal and Accelerate it to give power, speed and efficiency to the operations of machine learning. The programmers are already using Core-ML to improve applications such as Pixelmator Pro that uses machine learning to detect and understand the various functions on the images, and create solutions smart editing.
The new operating system has support for creating virtual reality content to create games of immersion and content 3D and VR on the Mac.
has Also been updated Photos with an interface of user improved, new editing tools, and integration with third party items. The Live Photos can now be edited with fun effects like Loop, Bounce and Long Exposure. Third-party applications like Photoshop, Pixelmator and others can be started directly from Photos.
in Addition we have included some new features and improvements in Safari: that stops the audio that plays automatically in the browser, and Reader that opens automatically articles in a clean format. In Safari, Intelligent Tracking Prevention detects and removes cookies and other data to keep the navigation in a way that is private.
Siri on Mac now responds with a more natural voice, and learn about musical preferences, create playlists, and personalized answers to trivia music using Apple's Music.
the Touch Bar in the MacBook Pro now has options Control Strip with older video controls and more.
Notes now includes simple tables that allow you to enter data into cells, perform edits, and move lines and columns.
Spotlight provides information on the status of the flights, including departure and arrival times, delays, gates, terminals, and even a map of the route of the flight.
macOS High Sierra is available for download free of charge. It has support for all the Macs from the end of 2009 and later.
macOS High Sierra is now available