DANIEL G. Aparicio
Mario Casas repeated with Alex de la Iglesia 'My great night', where he plays Adanne, a histrionic Latin singer.
young actor admits that he loves comic roles and it feels much more comfortable in the humor in the role of teen idol.
Ensure that is very familiar and loves to work.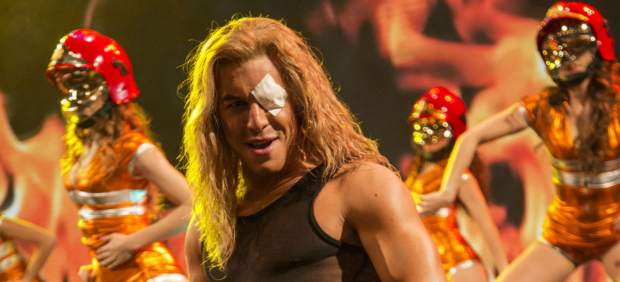 While several groups of girls await you nervous at the gates of a major hotel in Madrid, Mario Casas, smiling and very close, talk to the press about his role in My great night , which plays a Latin singer histrionic. Surrounded by the aura of teen idol, the young actor admits he prefers his role as comic ?? exploiting this tape Alex de la Iglesia ?? the conqueror.
Repeat with Alex de la Iglesia just two years after Witching & Bitching .
I think it has been chemistry, we understand each other very well. The Witches … we both saw where we wanted to bring the comedy, which character teach the public moving away a little of the image that people have of me on television and a film character. When I read the character in the script Adanne said "this will have to do." I loved the idea of ​​physically changing, put on a pelucón … Also, I brought a proposal to Alex and loved it like I saw it. I love your movies, I know what he likes and that has meant that we coincided perfectly.
How did you feel all the time with that blond wig?
Wonderful. My compis told me it was very hard because, from early in the morning as soon as I put the wig and the clothes that I was already into the character and did not leave until I did not remove it from the head. So I looked in the mirror and thought, "is that you can do what you want right now because you're someone else." I would've been great.
Have you ever changed your image so radically?
I had long hair when I was little, I've grown a beard I've shaved … but a look never like this (laughs).
It seems that comedy is good at …
To me comedy fascinates me. There are movies like Zoolander , with which this bears some resemblance, which I love. Ben Stiller and Owen Wilson's I have on a pedestal. There are many comedians that I like more than the drama.
So can say it is their gender.
I've always laughed at myself . People who know me and see me on Witches … or making Adanne or Brain drain , I recognize me, because I've always been the clown, school at home, with my friends … What happens is that this is not related to the image you get sometimes the pictures, a kind of films or the press, that put you in a different place. But I feel very related characters like this and comedy. I love to laugh at myself and make people laugh.
In your groups of friends, has always been funny?
I do. It was the class clown. I loved to make Los Morancos or the wonderful sketches that had Cruz y Raya. Made them with my best friend always in prom or when we could.
Do you like to imitate?
I'm not so much to imitate ?? I'm a little bad imitation ?? as doing parody. I'm more energy to see things I like and then transfer them to the characters. For example, in My great night , the gait of Adanne are a bit like Ace Ventura. I stay with the best ideas to incorporate, but I'm a little bad imitation.
Have you been inspired by any other character?
Some of the gestures I do are a bit like Owen Wilson's character in Zoolander . I have also taken details of characters I've seen on the Internet at Instagram, artists from these Miami a bit exaggerated (laughs).
And any particular artist?
No. At first it was said a little Bisbal and such, for the first forum, but the moment you see the movie you realize that it is not. Man, when dance itself is a bit Chayanne, Ricky Martin or perhaps Carlos Baute, but it has nothing to do. It is a character created and maybe you can remember someone but no parody of any singer in particular, would have been something ugly too.
Do you sing?
No. Well, yes karaoke.
What?
I believe that My great night and the sing all other issues Raphael. Raphael said she called five or six generations, and it is true. My brother and his friends, who are between 18 and 20 years, are going to karaoke and maybe one of Raphael are sung. Bast also some singing, Camela, Nino Bravo … Typical we sing all.
The film is set during the recording of a New Year's Eve program, have you ever participated in one?
Never. I find the host. When you see them, you give account of how they are made and it is a little strange. Man, maybe some people are believed to live, everything is happening at the time, but the reality is that maybe they have recorded in summer, as happens here in the movie. Anyway, I've never been much of Christmas Eve or New Year's Eve programs, I've always stayed with family, chatting, talking or playing a game together rather than get to watch TV.
instead Raphael itself is more accustomed to these programs …
Raphael's Eve. Ojo, because as I say the lees Eve (laughs). It goes to a family audience.
not to have two other projects about to open, right?
Yes. One is Palmera in the snow , which ultimately comes out on December 25. It is an epic story, very large, about the Spanish colonists in Equatorial Guinea. It tells the story of a kid coming out of Huesca and goes to live there for 25 or 30 years, until he drove the Spaniards. See the vital process of this guy, if unconscious and naive to how darkens their lives and is becoming a man.
The other project is about the story of the Chilean miners, ¿ right?
Yes. 33 had the opportunity to see it in Chile and I think a cool movie that when people come here is going to go well. Moreover, it touches the heart very much. Patricia, the director, has managed to tighten a story we all know but, knowing what happens, you get emotions and enjoy.
With both project does something free time?
not going to deny that these months will not. But I do not mind, I prefer it. When I took a month off work I get nervous, I enter itching. I'd rather be busy. At work is where I feel most comfortable and where I'm happiest when I smile more.
What does in his few leisure time?
I try to go travel around, take the car and escape. If it's summer, I like to go to Galicia to surf for relajarmae ​​and unwind, or take the opportunity to stay with my family. Also I have a brother a year and nothing and did not want to miss, because now that is growing is the most beautiful. Whatever it is, what I like to be with my people.
Do you have much attachment to your family?
Very much. I consider myself very familiar. I do not like to be alone and not have a good time, and when I have time to rest I go with them. Finally, when you go to work out, to make films in Chile or even Barcelona, ​​which is more close, what one misses is the family.
has recently uploaded Instagram video to an electric unicycle riding …
It's amazing, I'm hooked, I'm having a dwarf with him. Eventually this type of transport is the future: not pollute, is electric … Well, in that I need to do balance, so learning takes a few days and is mostly for fun, but the concept is that.
Do you like social networks?
I like social networks, yes. Instagram was not until two days ago, but finally I have convinced my colleagues, who stood not tell me how it was that I did not have. They made me feel as old (laughs). But I use it mainly for work. I expose myself quite recently, both in thought and in my personal life, I use it to inform the people that follow you for who you follow, that is work, nothing else.
Recently, a controversy arose over the fact that Hollywood actresses are paid less than the actors, have you noticed something similar in Spain ?, Do you think women are discriminated against or undervalued?
I thought I you were going to ask about the photoshop Inma Cuesta (laughs). Undervalued absolutely nothing. I think in this country there are better actresses than actors. The actresses in this country are enormous. As for money I have no idea if they charge more or receive less. Among the actors do not talk about it, it's super ugly, right? However, it can be that men have much more variety of characters. You are outside the USA, and it seems that if you're not Meryl Streep, all the characters or at least the most varied are given to men.
As quoted Imma Cuesta, what you think the controversy ?, you will ever have rotocado with photoshop?
To me, for sure (RSAS). It sounds good to say it. If you have been well and she felt that way and has come naturally … hey, that's fine.
film or television?
two things. To me television has given me everything, he has given me the opportunity to let me know, a lot of formarme front of a camera, many mistakes and learn from them … On the other hand, the film gives you the opportunity to enjoy of the project in which you immerse yourself more, because in the end on television you rehearse a week or two, the characters change, will come … and the cinema is what it is: you read that script, compose a long, long the character, you work with the director, the actors and two months later the story ends. You know the character and in five months and abandon it. That has something magical that logically do not have television.
Even so, television increasingly looks more like the movie …
The TV is on wonderful moment. I am looking forward to returning. I'm excited to do this they do outside and have begun to do here also in the miniseries of 6 and 8 chapters, which has more resemblance to the movie and lets you compose more the character.
Cine
Mario Casas: ?? In this country there are better actresses than actors ??
Source: english
October 22, 2015