Legendary will handle the adaptation.
Legendary TV and Digital Media have come to terms with Cyan Worlds develop a television series based on the classic video game series Myst .
The first game was launched in 1993 and was a first-person adventure game that became the title of best-selling PC until it was finally eclipsed by Sims in 2002 . It had a huge island to explore trying to solve a lot of puzzles are not easy and they had a whole generation of players using their gray matter trying to solve to advance adventure.
Cyan Worlds It has been said that this project will allow finally be able to express the rich history of the series in a much more visual medium in which it is far easier to tell a story.
"The goal of working with Legendary Cyan is not just creating an attractive TV series, but develop a transmedia product that includes a game that extends the history between the two media . 70% of tablet users use their devices while watching TV and Cyan sees the potential to push the boundaries of interactive narrative to a new level, "said Cyan Worlds in a statement.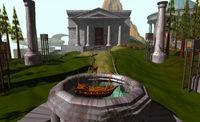 Vandal
Myst will become a TV series
Source: english
October 8, 2014