it Is clear that the triple rear camera is an element that is shared more and more models of the mobile landscape (there are even some with four, as the Galaxy A9 Samsung), but up to now, in the front we had only seen one or two sensors.
Indeed, until now, because Meitu (who has recently signed an agreement with Xiaomi) has presented in China two models with three cameras in the front. This is the Meitu V7 and its premium version, the Meitu V7 Tonino Lamborghini, two terminals that share common features but differ in design.
A clear bet by the selfies
Both the Meitu V7 as the edition Tonino Lamborghini have in its front part with a camera triple composed by a sensor of 12 megapixels for night shots, a lens ultra wide-angle lens 20-megapixel camera and a depth sensor of 8 megapixels. In addition, the company ensures that their unique algorithm of images and Artificial Intelligence allow you to capture selfies in high-quality in low-light conditions.
In the rear, both models feature a cconfiguration dual camera 12-megapixel + 8-megapixel which is accompanied by an optical image stabilizer (OIS) and paths, drives, dual-LED flash on both sides of the sensors.
The triple's front camera Meitu V7 is composed by a sensor of 12 MP for night shots, a lens ultra wide-angle of 20 MP and a depth sensor of 8 MP
in Addition, the two versions of the Meitu V7 include a screen OLED FullHD+ children.6, 21 the reasonbehind inch, without notch but with a few frames of generous size. In its interior, we find the Snapdragon chipset 845, 8GB of RAM, Android 9 Foot and a battery of 3,500 mAh. They also have a scanner of fingerprints in the home button, an option that is curiously leaving the majority of manufacturers.
availability and Price of Meitu V7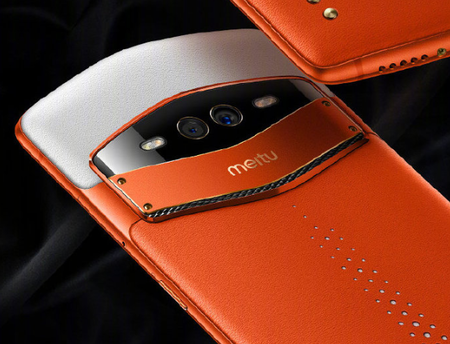 The Meitu V7 has a cover patterned skin of sheep of high quality customized specially that gives it a distinguished look. Also includes metal details and four rivets plated in 18k gold, and is available in colors Cabernet Orange (orange) and Green Dream (green). It comes with 128GB of storage and has a price of 4.799 yuan (about 610 euros at the exchange).
For its part, the Meitu V7 Tonino Lamborghini features the same leather design as the regular version, but it has a metal frame color red and a red stitching, white and green which is inspired by the Italian flag. It also features a rear glass around camera dual simulates the texture of carbon fiber, the logo of "Tonino Lamborghini" with metallic finish and four rivets plated in 18k gold.
Both the Meitu V7 standard as the edition, Tonino Lamborghini feature a covering of sheep's skin and rivets gold plated
This release Tonino Lamborghini is a limited edition model that comes in two storage options of 256 and 512 GB, with a price of 8.888 and 10.888 yuan respectively (about 1.129 and 1.383 euros at the exchange), although the customers who book the variant of 256GB can benefit from a discount.
pre-orders of the limited edition Meitu V7 Tonino Lamborghini will begin on December 24; official sales of the standard version of Meitu V7 will start in China on January 9, 2019.
Via | GizmoChina
we Also recommend
the good, The bad and the ugly on bank fees: is it possible to avoid them?
Live X20 Plus UD: it's official the first mobile phone with fingerprint reader under the screen
Vernee X: four cameras, 128GB, 6200mAh battery and warranty in Spanish
–
The news neither one Nor two, three, front-facing cameras: as well are the latest mobile Meitu for lovers of selfies was originally published in Xataka Android by Laura Sexton .

Xataka Android
Neither one nor two, three, front-facing cameras: as well are the latest mobile Meitu for lovers of selfies
Source: english
December 21, 2018