Netflix Spain ya is a reality. From midnight tonight, the VOD service in streaming has begun to move, and their principal officials have been in Madrid to present officially. Both Reed Hastings , CEO of the company, such as Ted Sarandos , head of content, have emphasized that, finally, Netflix has come to Spain, and have explained to reporters present in this presentation the operating philosophy of Netflix.
In the press conference have been also accompanied by Steven S. DeKnight ( showrunner of the first season of ' Daredevil '), Daryl Hannah and Miguel Angel Silvestre de' Sense8 ', Taylor Schilling of' Orange is the new black ', Krysten Ritter' Jessica Jones 'and Will Arnett of " BoJack Horseman ', which also is rolling another title for the platform, 'Flake. In Vaya Tele! we have told the event live via Twitter .
One of the most controversial aspects of soc...

In all parts of the Earth and at all times, ...

There is no doubt that since 1960, a new era...
and Original Series global launch
Sarandos and Hastings have been those who have borne the brunt of the presentation. Both have emphasized how important it was for this new revolution internet that is experiencing television, allowing users to see what they want, when they want and on the devices they want. Hastings specified that the Internet has brought three fundamental changes in the way we consume entertainment: You can watch it when you want, it's on all screens and is customizable.
This last point, customization, which have been the two most talked about Netflix executives. Both Sarandos and Hastings have noted that one of the strengths of your service is the ability to adapt to the tastes of each user . They have also added to the original series and movies that are developing are seeking precisely reach every different customer profile Netflix, want all family members can see what they like.
In this commitment to original content, it has also spoken of the possibility that gives the streaming to launch it simultaneously in all territories where Netflix is ​​present. Thus, Sarandos said that piracy of their content is reduced (which ensures that happened in Australia since they started working, earlier this year), and provides the global Internet TV is power.
The catalog of Netflix Spain
One of the issues that has most talked about in these months of waiting to start Netflix Spain has been its catalog. Would it be much smaller than the US? Similar ¿who had the service in other European countries? Hastings and Sarandos have commented that in France and Germany, the initial catalog doubled in the first year of Netflix there, and they are confident that they can do the same in Spain. They have also explained that they have to negotiate in each country, one by one, separately.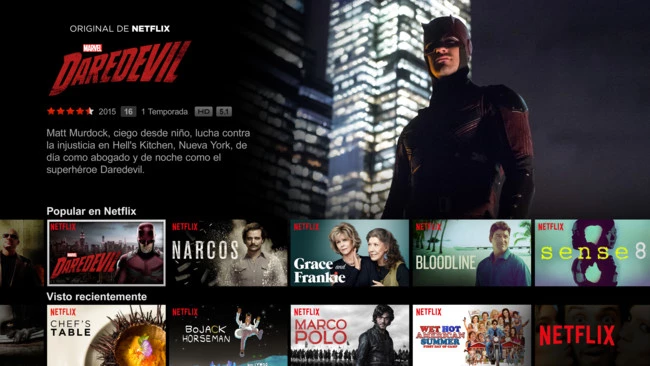 In addition to the series Netflix original we already knew (including the first season of "Orange Is the New Black" and the first two of 'House of Cards', which first broadcast rights are held by Movistar +), the platform announced including Spanish productions in its catalog as 'The ministry of time', 'Isabel' , ' Vis a vis 'and' down there ', and its foreign series, may be the first seasons of' Suits' 'Gotham', 'Arrow "and" Orphan Black ', still unpublished in Spain. Similarly, BBC will see titles like ' Sherlock "and" Peaky Blinders '.
In addition to series, documentaries and Spain will Netflix movies available both original theirs (as ' Beasts of no nation ' or ' The ridiculous 6 ', the first of which signed with Adam Sandler) and other studies, case 'Origin', 'Three Steps Above Heaven' or 'Man of Steel'. All contents will be dubbed into Spanish, with the possibility of choosing original version subtitled in Spanish.
The future Netflix
The company has already come to Spain and this week started well in Italy. But what are your future plans? Hastings pointed out that aim to reach a third of Spanish households in seven years , which is more or less the rate of growth they had in the United States, and has also noted that, in four years, have increased from 16 million international subscribers to more than twenty. Currently, in total, Netflix has surpassed 60 million users. But they are not free from competition from other services, both in the US and elsewhere.
The journalists wanted to know why it seemed that Movistar +, its main competition in Spain by the volume of his catalog, claimed he had an unbeatable offer, Hastings has responded so using the example of competition between Netflix and HBO in North America . Both subscribers have grown in the past year because, in her words, HBO continues to give high-level original content, and while all provide good content to users, to be able to maintain and grow.
On the other side, the actors of the series of Netflix present at the event reviewed the experience of working for Netflix, highlighting creative freedom given to its writers and the relief of having to not be aware of the hearings or have to be thinking about looking for another job if they are low, as Krysten Ritter said. Miguel Angel Silvestre stressed that freedom to speak of 'Sense8', and how important it seemed that a number like that u 'Orange Is the New Black' reached many homes and contribute to society was becoming more tolerant and open-minded.
In Go Tele ! | This is what it might cost Netflix in Spain
We also recommend
Is 'Orange Is the New Black' best series of Netflix?
Netflix is ​​partner for its launch in Spain: Vodafone TV
Amazon is willing to almost anything to overcome Netflix, did he succeed?
–
News Spain Netflix comes in emphasizing its commitment to the original content was originally published in Go Tele by Such Marina.
Netflix comes to Spain emphasizing its commitment to the original content