The film adapts the classic video game Dragon Quest V, which made its debut on SNES. Premiered last summer in Japan.
Netflix has been done with the rights of Dragon Quest: Your Story, the film of animation done by computer that adapts freely for the history of the classic Dragon Quest V, and which premiered in theaters japanese in August of last year.
Video: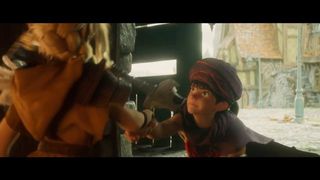 The film has been picked up in the local catalogs of Netflix for the U.S., Australia and Mexico and its tab you can check here.
Between the creators of the tape meet the director and screenwriter Takashi Yamazaki –Always: Sunset on Third Street, Parasyte, Doraemon: Stand by Me-, the direction of Ryuichi Yagi and Makoto Hanafusa, the supervision of Yuji Horii and the soundtrack of Kouichi Sugiyama, the composer of the games.
The original title debuted in Japan for the Super Famicom (known in the West as Super Nintendo) and there was a remastering complete for the Nintendo DS that was his european debut.
the film follow in the footsteps of Luke: the young man embarks on a mission to rescue his mother from the evil bishop Ladja. To do this, Luke looks at the hero in heaven, the one who wields the mythical Sword of the Heavens.
a Good host in Japan, but there has been some controversy
Since Netflix is listed as a production "Netflix original", we can assume that the company has paid part of the location to be made with exclusivity of the film through their collaboration in the production of the international version of the film.
For now there is no confirmed date for its release on Netflix, but it seems that will be released soon and that the legal conflict in Japan around the film will not have negative effects.
And is the Saori Kumi, who signed the novelization of the video game, has filed a lawsuit against the companies producer of the film alleging that the tape names are used and characters created expressly for the book. Kumi believes that this violates their rights of authorship on the original components of the novel.
Among the japanese public had a host of relevant, exceeding a million viewers very soon, even though the criticism was harsh with the tape. A part of the public did not see with good eyes that don't bet by the drawing style of Akira Toriyama, who has always been linked to the saga.
Netflix is made with the rights of the movie Dragon Quest: Your Story
Source: english
January 4, 2020