20 MINUTES.IS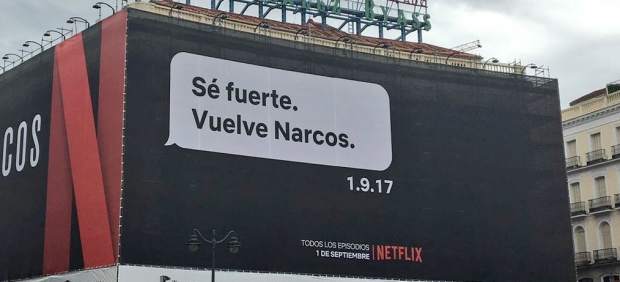 Another poster controversial Netflix in madrid's puerta del Sol to announce his series star, Narcos. If past Christmas, surprised her with a 'Oh, white Christmas' that was a reference to the drug on which is the plot, now the message is a pullita Mariano Rajoy.
"be strong. Re Narcos", reads the poster of the platform series and films, a reference more than obvious to the message of the president of the Spanish Government sent him to Luis Barcenas, former treasurer of the Partido Popular, in 2013, when it was already being investigated for alleged corruption and that the own Rajoy later recognized to have sent, and that there had been an error.
The third season of the series that has followed the life of drug trafficker Pablo Escobar and the Medellin cartel will suffer a plot twist and it will premiere on Friday 1 September to the 9.01 hours on the Internet platform and in it will participate the Spanish actors Javier Cámara and Miguel Ángel Silvestre.
Behind the scenes, they are all paisas. The third season of #Narcos is premiered on 1 September. pic.twitter.com/NdCtH8Ay7h

— Netflix Spain (@NetflixES) August 26, 2017
Netflix the back to roll in the Sun: uses the "be strong" from Rajoy to Barcenas to announce Narcos
Source: english
August 27, 2017