The game of survival, building and exploration with dinosaurs premieres launch trailer.
Solutions2Go and Snail Games have announced the release of PixARK, the title that blends survival, open world and an aspect graph extracted from the voxel while it brings a new approach on the well-known ARK: Survival Evolved. The video game is now available on PlayStation 4, Xbox One, Nintendo Switch and PC. Its price is 49,99 € , and has premiered a trailer.
Video:
Photo by Sergey Zolkin from UnsplashWell, Xf...

What is Inat Tv Pro?Inat Tv Pro APK for Andr...

The cryptocurrency market has exploded in po...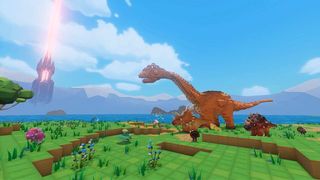 PixARK offers the possibilities of multiplayer and single-player, inviting us to gather materials, develop objects and build huge shelters with which to defend yourself against other users, and prehistoric beasts. The title includes more than 100 dinosaurs and other creatures to tame, as well as a creative mode invites us to generate and build everything that we want. Solutions2Go and Snail Games have also designed a system of generator of worlds, random more than 8 landscapes of bioclimatic different and a system of missions procedural, so you always have something to do.
The video game tells us how a group of players wakes up in a mysterious island full of dinosaurs
The game tells us how a group of players wakes up on a mysterious island, in which they will find themselves homeless. Joining or going for free, they should be organised to survive, hunt, collect, develop, objects, grow crops and build shelters which protect them from the dinosaurs, natural hazards, and other players.
Now on sale PixARK to Swtich, PS4, Xbox One and PC