The market of smartphones has changed slightly with the desire of some manufacturers to build terminals whose edges are almost non-existent, up until then we were caught in a monotony of design that began to be boring for some. However, a manufacturer name NuAns appeared last year with an original proposal, while for Windows Mobile.
although the phone failed to get out of Japan for failing in a campaign of Kinckstarter, NuAns haven't given up and have decided to launch a campaign on Indiegogo, but this time to update your specifications and stick Android Nougat. As in the previous model, the main novelty is to be found in their housings interchangeable, and this time they want everyone to be able to enjoy the set.
For starters, this time his goal in the Indiegogo campaign is to reach out to 370.000 dollars in one month, quite a lot more viable that the goal of 750,000 of that was for the previous model. In this case, in addition, we see how its specifications have been increased to comply a little with what is requested in full by 2017.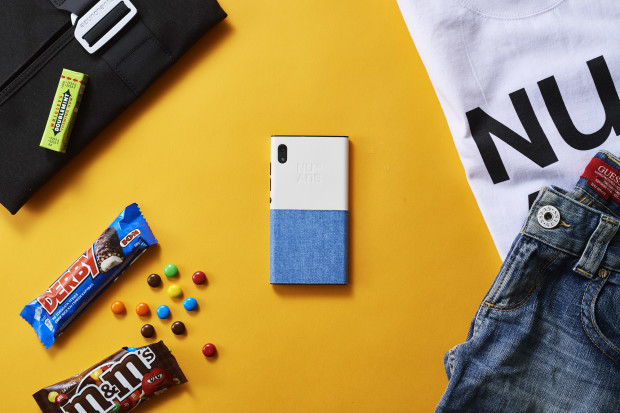 In terms of screen, has a size of 5,2 inch and has FullHD resolution and is manufactured by Sharp. The front is protected by the glass tout les Pro. As for the processor, we're looking at a Snapdragon 625 accompanied by 3 GB of RAM and 32 GB of storage expandable with microSD cards of up to 1 TB.
(photo is in charge of a rear camera of 13 MP with f/2.0 aperture, while the front has a resolution of 8 MEGAPIXELS and aperture f/2.2. To keep alive this NuAns NEO-Reloaded have installed a battery of 3.450 mAh with Quick Charge 3.0 of Qualcomm. Em the software, as we said, account with Android 7.1 Nougat, although they have not said whether or not there is a layer of customization.
In terms of design, NuAns shows his phone with a finger sensor front and, as they say, almost without a mark, a somewhat exaggerated when you view the photos. However, a positive point is that, despite the fact that the housings are interchangeable, has a small water resistance thanks to its IP54 certified.
| | NuAns NEO [Reloaded], specifications |
| --- | --- |
| physical Dimensions | 141 x 74 x 11 mm150 grams |
| Display | 5,2 inches |
| Resolution | 1,920 x 1,080 pixels, 428 dpi |
| Processor | Snapdragon 625Octa-core 2 GHz |
| graphics Processor | Adreno 506 |
| RAM | 3 GB |
| Memory | 32 GB + microSD up to 1 TB |
| Version | Android 7.1 Nougat |
| Connectivity | WifiLTEGPS with A-GPS supportGLONASSBluetooth,LTEfinger SensorUSB-C |
| Camera | Rear: 13 MP with f/2.0 apertureFront: 8 MP aperture f/2.2 |
| Battery | 3.450 mAh |
| Access to Google Play | Yes, of series |
The housings are interchangeable as the main claim
while it has specifications quite complete for an average user, the main attraction that gives NuAns your phone is the multitude of housings interchangeable available. You can opt for the typical-type 'flip' or by calling 'TWOTONE', housings that are divided by half for the pair to suit your taste.
According to the company, the NuAns NEO [Reloaded], with this latter type of casing, you can make a total of 600 combinations among all the colors available. Both the housings 'flip' as the 'TWOTONE' have the ability to save cards (credit or whatever you want), although in the latter case you have to slide the bottom cover to access it.
In terms of price, you can have access to multiple possibilities, which will dince the $ 30 that they are simply to choose a case, until the $ 750 that include two mobile (Core) and two combinations of liners 'flip' and 'TWOTONE' at will (two of a kind or one of each). There are a lot of possibilities from which to choose, but what you would choose any of them?
Via | IndiegogoXataka Android | there is Already the double of devices with Android Nougat than a month ago
–
The news NuAns NEO, the mobile phone with housings of different materials, he rises with Android 7.1 Nougat was originally published in Xataka Android by Santiago Luque .

Xataka Android
NuAns NEO, the mobile phone with housings of different materials, rises with Android 7.1 Nougat
Source: english
May 2, 2017