It is a free download on Steam and iPhone.
Vile Monarch and Gambitious Digital Entertainment has launched ?? Oh Sir! , a title one on one in local mode that defined as a simulator of insults. The title is available on Steam href="http://store.steampowered.com/app/416690″ (Windows, Mac and Linux) and iOS App Store as a free download in both cases.
The title presents a Two knights insulting creatively (in English) , and the goal is to launch the most outrageous insult but full of class you can get.
The game was created within 42 hours as part of the result of a game jam organized by Artifex Mundi with the slogan "this parrot is no more", in reference to famous dead parrot sketch from Monty Python .
This title came in second in the competition and took the audience award.
Video: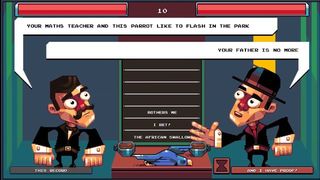 Oh … Sir! It provides a competitive game of insults
Source: english
December 27, 2015