Atlus could release this revamped version of the role-playing video game of success in a few months, although the official date has not transpired.
Person 5 Royal, the extended version and improved the game of 2017, it will be available in the spring of 2020 on PlayStation 4, something that we already knew. However, there is no known release date exact official. ATLUS could play the card launched in February in the West, something that begins to gain strength, according to a series of leaks produced in the PlayStation Store from asian countries like Indonesia and Taiwan, some places have already led to many advances at the date of issue.
there is No official date but is likely to
Interestingly, both the PlayStation Store, as the Indonesia and Taiwan, listed this long-awaited revision of the role-playing game for the next February 20, 2020, English edition, which will be marketed in the West –although it is speculated with a Spanish translation-. It should be noted that we speak of a date-filtered by the digital store of Sony, so the credibility could be higher than other rumors or estimates. The video game, which debuted last November in Japan, placed 201.448 physical copies in its debut, an indication of the importance of the saga, and the license in the country.
Persona 5 tells the dramatic and unique story of a group of teens tormented and individuals that, quite by chance of fate and various circumstances, will have to face a terrible threat of the supernatural. To be able to fight and come out victorious, the same will have to make use of a few alter ego special, called the Person, inviting us to know a dream world and special and one of the best arguments seen in a video game in recent years. In addition, Persona 5 Royal, the revised version of the classic masterpiece in japanese, adds new areas to the development of the plot, characters, unreleased and features playable that make this edition a delivers even more complete. As new characters to highlight, we find the intrepid Kasumi Yoshizawa, that joins the group of the Phantom Thiefs, next to Takuto Maruki, a new confidant, that will give us new options of conversation and dialogues, as well as a new plot.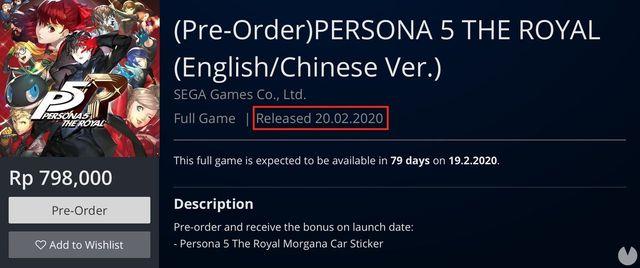 In regards to the new areas, we will be able to explore the district japanese Kichijoji, at the time that we enjoy new events featuring Caroline and Justine. Likewise, the game will offer new graphics, enhanced in this case for PlayStation 4 Pro, compatible with resolution 4K. The saga, which has sold more than 10 million copies among all their submissions, it is one of the most loved by the public japanese, and with the passing of the years, it has carved a niche in the West.
Person 5 Royal could reach the West in February of 2020
Source: english
December 2, 2019