The title will be released on PC through Steam last year.
Pig Eat Ball, which arrived last year on PC, is preparing to join the catalog of Nintendo Switch the next 18 of October.
Video: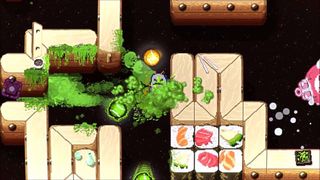 In this title, the king has created the Actual Games, a competition whose winner will marry the princess Arc. As not managed to convince his father of that is still nonsense, Arc decided to dress up and participate personally in the competition.
During your adventure, you will discover the nefarious plan that threatens to end all life aboard the realm Space Station. To do this, the user will explore worlds gigantic, interconnected, filled with inhabitants strange and rewards in secret. He travels to five areas that are completely different, such as the Gardens of the sushi, the Kitchen of chaos or the Astrogranja.
all levels are made by hand, in such a way that all of them have some puzzle or detail particular, as for example to dodge a bull alien, spit bombs, eating pies flying, or bowling on conveyor belts.
Vandal
Pig Eat Ball will Nintendo Switch the next 18 of October
Source: english
August 25, 2019