If you think that something is paranormal, it is a trick.
Be designer game is not easy. To be successful it is necessary to perform a work of reverse psychology in order to understand what will think the player in each situation and how to encourage their participation.
Video: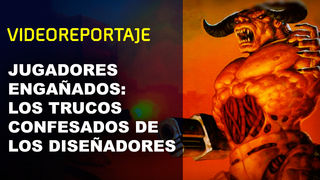 The art of deception in video games
This September we have lived on Twitter a very useful tool for those who aspire to pursue a career in the video game design: some creatives have confessed tricks used in their titles.
From Vandal TV we have been very attentive to all comments and I offer it in the video a review of the design tricks and most unexpected, surprising, and attractive that have been confessed on the social network.
More videos on Vandal TV
we remind that both this video as well as the analysis, gameplay commented and all kinds of reports of Vandal TV, you can see here on the website and in our channel Youtube, we encourage you to suscribáis.
Players fooled: The stunts confessed designers
Source: english
September 24, 2017