ProtonMail is the company that wants to carry the encryption to the e-mail for the masses. It is a company born from a group of scientists at CERN have made a bet for Switzerland to ensure the protection of technology and legal. The mail client has been very successful, but they also have a VPN service (virtual private network), which now comes with its own app to Android.
ProtonVPN is intended for activists or journalists, those users who wish to access the network and surf privately. Being able to access for example to websites that have been blocked by the respective governments of each country.
ProtonVPN, strong candidate for best free VPN for Android
this Is without a doubt one of the best VPN for Android that currently exist. On the one hand you have a free access to three countries, and no bandwidth limitations.
in Addition we do not have and advertising or you are accessing our data. In case you want to get higher speeds, more countries or access to Tor servers yes we will have to hire one of the premium services.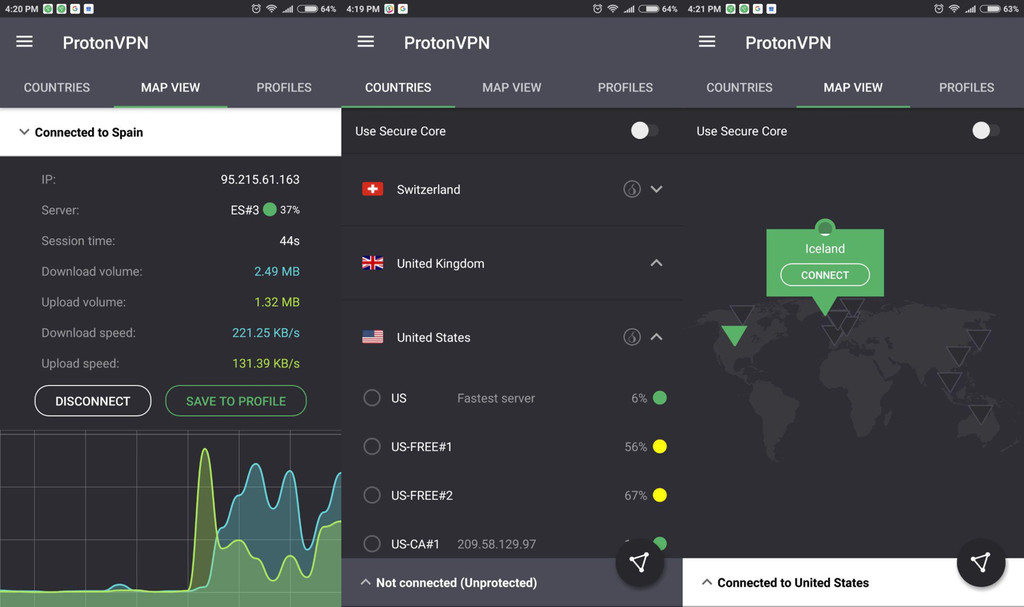 The design of the application is really easy to use. You simply need to register quickly in your web and since we can choose the three countries where we want to connect through this VPN. We have not seen any type of advertising and taking into account the history of the company, we also transmitted a lot of confidence.
What is true is that VPN for Android they needed an application as well because according to some studies, up to 38% of the VPN free for our system contain some type of malware.
Privacy 'made in Switzerland'
The swiss laws they will also ensure privacy because they allow the navigation completely anonymous. The business model is quite transparent and you expect that users who decide to pay to offset the costs of the free users. is Not keep any log logs, so that they may not share our activity with others.
ProtonVPN is associated with ProtonMail, but legally they belong to two different companies that have separate teams. Its offices are in Geneva and use it as a comment on the swiss laws, the most strict privacy in the world. Only the court, the swiss can request private information about an individual, but does not save any log would also be difficult to comply with this requirement.
the connections through The VPN are encrypted using the protocol of IKEv2 so that our passwords will be safe despite the fact that the network public WiFi may not be. If you're looking for some free VPN for Android, and still not had not a favorite, here's a strong candidate.
ProtonVPN
1.0.2
Android Version: the 4.4
Developer: ProtonVPN AG
Download: Google Play
Price: Free
Category: the Tools
More information | ProtonVPN
Xataka Android | Careful if you use a VPN application on your Android, most collect data, according to a study
–
The news ProtonVPN: a VPN service protected by the swiss laws and created by scientists at CERN was originally published in Xataka Android by Enrique Perez .

Xataka Android
ProtonVPN: a VPN service protected by the swiss laws and created by scientists at CERN