The director of Warriors Orochi 4 Ultimate, Tomohiko, Sho, believes that the new hardware will give developers new ways of approaching to the original designs in video games.
Despite the fact that we have talked about a good number of technical features in the PlayStation 5, that will come in late 2020, still remains a mystery. We know many of the details of your processor Zen 2 AMD, a CPU that will have high clock speeds, and you will help Sony to build on what is already defined as the console world's fastest. But how do we apply these advances? Up to what point will make a difference in the game? director and producer Warriors Orochi 4 Ultimate, the new version of the musou, explains to what extent will change everything.
A whole new world for developers
"To dramatically improve the speed of your processor and the amount of things that are to be processed or run, we think that this will give rise to an AI more advanced and worlds to a larger scale, allowing us to re-enactments or simulations of higher quality instantly," adds Sho. But what hinders this to the developers during the first few months or years? Although the architecture does not change drastically with respect to PlayStation 4, the new console may if you need several months to be dominated.
Video: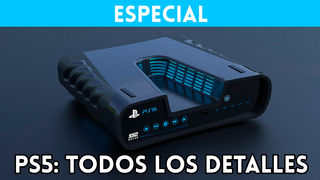 "at The beginning it may cost to adapt, but the CPU will allow us to create worlds largest and develop an AI more advanced"
"while this can make it difficult to around the development, at the end, we hope that the efficiency of the development or the automation progress, so that we can focus more on the details and the content," he added Tomohiko Sho, which matizaba the effort they will have to put the studies in order to squeeze the console. What will be so important to the processor in the fifth console from Sony? The new machine will mount a chip AMD Ryzen Zen 2 with 8 cores and 16 threads, a unit of processed much more powerful than the PS4 and with a neck of a bottle much lower than the PS4 Pro, which although it worked at higher speeds, was incapacitated by the architecture of the console launched in 2013.
PS5: A console with several innovations in hardware
PlayStation 5, which will debut by the end of 2020, will be a leap too big with respect to PlayStation 4. We know that your graphics unit or GPU offers compatibility with the ray tracing, an aspect that, thanks to the rumors or raw numbers filtered up to the date, we would be above graphics cards like Nvidia GTX 1080 and very close to the GeForce RTX 2080. With a solid-state hard drive one that could make the difference to several levels, the console Sony released also a a new DualShock with technology haptic.
PS5: The CPU Zen 2 help you to create worlds of huge and advanced artificial intelligence
Source: english
October 28, 2019