The naughty goose from the independent game continues starring in memes and jokes that on this occasion he entered as the relentless persecutor of RE2.
The community modder Resident Evil 2 Remake still thinking of a substitute for Mr. X, the fearsome enemy that haunts us throughout the game. You can change the character by Pennywise of It -the film and book by Stephen King – or Jason Voorhees of Friday the 13th, but if you're tired of the terror, you can opt for the meme of fashion in videogames: the goose of Untitled Goose Game.
ZombieAli working on a mod that does just what it promises: changes to the nearly indestructible tyrant by a huge goose, inspired by the game independent Untitled Goose Game, which since its launch a month ago has helped to create dozens of jokes placing the goose of protagonist in other titles. In the video presentation, we can see the first sequence where it appears, Mr. X but with a white goose.
Untitled Goose Chase? #Mod #RE2 #MrX #UntitleGooseGame @panic pic.twitter.com/IZUGLTxDS6— 🎃 ΛLISTΞR 🎃 (@xZombieAlix) October 19, 2019
Honk honk
Untitled Goose Game proposes to be a naughty goose who explores different situations everyday to look for food, although this has to annoy the human. Although it began as a game of stealth, the tone of humor began to gain importance and in the end it has become one of the hallmarks of the title, where we can interact with the environment to anger people.
Now is available in Nintendo Switch and PC, but the computer is already talk of versions for the PlayStation 4, Xbox One and perhaps mobile. In analysis discussed that its gracietas are generated from the bases of a good level design, although its high price for what it offers and certain frustrating situations will remain something of quality.
Video: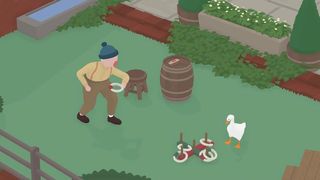 Resident Evil 2 Remake: A mod replaces Mr. X for the goose, Untitled Goose Game
Source: english
October 21, 2019