DANIEL G. Aparicio
Ricardo Darin stars with Javier Camara, 'Truman', a film by Cesc Gay already has won the praise of the Spanish and Argentina criticism.
The actor confesses a sensitive man, a good friend of his friends and a great lover of animals, especially dogs and horses.
think "in big cities do not live well. "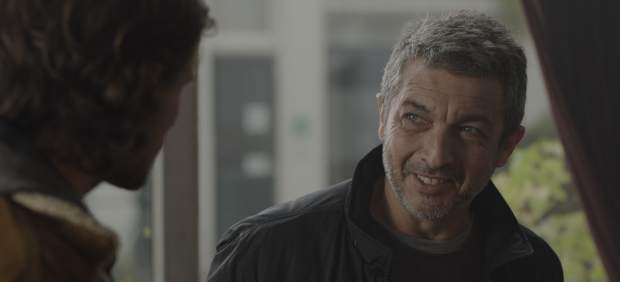 The Argentine Ricardo Darin has again become these weeks in a name Reference the current cultural scene in Spain, first for his work in the play href="http://www.teatroscanal.com/espectaculo/escenas-vida-conyugal-teatro/" Scenes of Conjugal Life , with which you are visiting some of the major Spanish cities, and secondly by Truman, Cesc Gay film that has won over critics and many predict will be one of the big winners of the next edition of the Goya awards.
So far, the film has already received the Feroz Zinemaldia and Darin Award, the Silver Shell at San Sebastian shared with his co-star Javier Javier Camara, a recognition that according to the actor Argentina also should have been for Gay.
"He's had so many hits that the first thing I thought the day we have honored us was in Cesc. What should feel a director who elects two types to do the protagonists of his work characters and see that the two have been rewarded for it? This is a prize to the director. I noticed that it will award not , really. So I say that awards, to commit a small justice, often make great injustices, "says Darin in a meeting with the press.
This recognition adds to many of the long career of an actor who confesses that even much remains to be done and ensuring that success is somewhat volatile. "I feel that I have still I'm back. I'm not lying about any privileged location or installed in a place of infallibility. Also, I know that to the extent you accumulate pleasant situations, for it were also going setting the bar at a point from which then will you be judged, "said the Argentine.
" The work of public exposure are continuous review . Always, every day … No matter what you've done before, you will be judged by the new, and sometimes it is very unfair to the professional. When you are lucky enough that things will go well, everything the world gives you kisses and hugs, you pat your back and tell you you're a freak, then appear saying 'bah, it was time for him to fall,' "he says.
Truman , Darin plays Julian, an actor who has been diagnosed with terminal cancer. Thomas, a friend of a lifetime, traveling from Canada to spend a few days with him in which both share experiences very marked by the proximity of death , a subject that for Darin is not as delicate as they say. "What is the hard issue death ?,? When going to see an action movie where a guy shows up with a gun and kills sixty-three does not seem hard, right?" He asks jokingly.
"Cesc has used as trigger the issue of death but I think what he wanted to do was scatter topics as how we relate to others or what space we give to those we claim to love. Many times with those we love, precisely because there is a large current of affection, we will leaving everything for later. I feel sometimes live life live like we were four years . It is rare that " says the actor, who admits that trying to escape. "I'm not staying with the desire to tell my friends or my family what I feel for them," he says.
"It can make men a little more chaste than women, but I have open my problem with my loved ones, whether men. Maybe I am too feminine can be, because we all have a chromosomal component assume some and not others "sentence.
The "drop everything after" is, according to him, closely linked to the urban lifestyle. "One gets the feeling that, when away from the big cities, madness, traffic, and goes to the countryside, mountain or sea life suddenly looks more like it should be, with another rhythm, more attentive to what surrounds us. to the arena, how's the weather … I think that in big cities do not live well , definitely do what we can, we the we have to dig to find space, but we are looking forward to having a few days off to run out of here, "says
." With regard to the death of what we do is talk is have freedom to decide you come to say what you have to do, because you have to be in the shoes of the guy at the chance to know what it feels like. It is very easy to speak from outside " Darin said.
Friendship and love for animals
Apart from the issue of death, that is from the perspective halfway between the dramatic backdrop and humor and lightness of everyday life, the great theme of the film is friends , specifically a friendship that some describe as idyllic but Ricardo Darin you think it is possible. "It would be very pretentious on our part to try to discover the best in relationships or occasional fleeting, but I think there's friendship is one of the most complex feelings that exist. There is a stream of shared affection, with reciprocity, which thrives on successes and failures, is assumed to be complex but defends herself, "says the actor.
" The dynamics of life sincere friendship increasingly complicated, but we rescue the possibility exists. I for now feel deep friendship with several people to which I have not betrayed or why I felt betrayed. And it does not mean I have not made mistakes, "he added.
After the friendship of Julian and Thomas, the second great relationship the film has to do with the title of the film, many wonder whose sense. Truman is is the name Julian dog , his constant companion, with whom she has a close link to Darin is more than understandable. "I am deeply perrero, I have four dogs at home and do not know which of them want more," he says.
"Does anyone behave more unconditionally when you arrive at your house who do not question nothing and the only thing it does is move the tail and hitting jumps for joy as if you came back from the war? Is there something bigger than that? No. Everything else is subject permanent negotiations, they did not. Well, jumping to the fact that we have tamed through the food, which is another of our inventions. I love animals, events especially dogs and horses, "says the Argentine interpreter .
Truman , besides critical acclaim, Ricardo Darin earned personal growth. "It's like when you're with a good novel you can not stop reading or going to the theater or the cinema and see a film that moves you, you feel refreshed. I perhaps very childish in that sense, but feel I am a better person when someone opens my eyes about something, or at least I wasp or give me some enlightenment. To me it happened to me that with this story, "says the actor.
Ricardo Darin, "Sometimes we live life as if we were to live four hundred years"
Source: english
November 3, 2015