CLARA HERNANDEZ
The actress Rossy de Palma participates in the French film 'Do Not Disturb', a comedy directed by Patrice Leconte will come this Friday at theaters.
"It seems that Spain is now rediscovering me as an actor with this film and 'Anchored', but I have not stopped working at any time," he said.
Interview with filmmaker Patrice Leconte : " The French producers have realized that comedy is a reef ".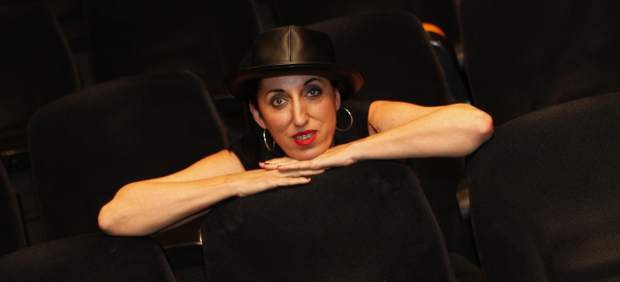 During the photo shoot , gives punishing poses, arms raised with theatricality ("rebótame flash, rebótamelo" urges the photojournalist) or squeeze firmly to French filmmaker Patrice Leconte, a small man who flashes a blushing smile as the spontaneous and hilarious muse imprisons him. Then Rossy de Palma (Palma de Mallorca, 1964) wields a calm speech, colored and glitter humorous notes almodovarianos . The actress discusses her role in the last film of the French manager ( Do Not Disturb ), which opens this Friday, June 26th in Spain. "Now the duster and mop head are my instruments," he says referring to his character in the French comedy as well as the television series Anchored currently emits Telecinco. In both plays a maid to take up arms.
Forty-four years after the filming of "Come to Germany, Pepe ', his character in' Do Not Disturb 'is a Spanish assistant in France. A cliché or reality?
There is everything. In French fiction these characters exist with its connotations. In reality, I have met many women or maids Spanish and Portuguese goalkeepers who have given so much to the people who care in France. For me it is a pride to interpret because they are heroines. I am a working-class woman and I consider as a mission to give visibility to that group which is an important base of society.
How many hurdles had to leap to work in Paris?
There were no fences, but I had to take with the language. When Virginie Thévenet called me to do a movie, I could not get my contract that would eliminate the clause stating that if I did not understand it, I would double. I did not want to fold me because I believe that the voice is almost 80% of interpretation. I decided to stay in Paris during the shooting with a Coach they put me and with whom I spent the day gossiping. At first he reads real nonsense and was very funny moments.
Like what?
There's pronounced differently by the v, not like in Spain. 'Vite' means fast but 'bite' means cock. I spent months saying cock instead of quickly, as there does not correct anyone …
Did you find there more hollow than in Spain?
Yes, actually I have worked more there than here. But I've never stopped working. Now, however, it seems that in Spain, following the film Three Weddings more or Anchored series, people are rediscovering me. They say, "Oh, how nice to see you on TV or in the movies." It seems incredible after having been acting life!
What do you think the current success of French comedy is that?
I think it has encouraged the market and people want to laugh with movies that can be identified. In France there actorazos as Christian Clavier (star of Do Not Disturb ) that are masters of comedy and help a film will resonate. Clavier is a reincarnated Louis de Funes unintentionally is so funny that you piss him. His film My God, but what have we done? was seen in France for 15 million people in Spain, for a million-plus.
Create that the Spanish public will identify with the situations of Do Not Disturb
I think Do Not Disturb could be a Spanish film. Anyway, I'm a frontier person. When things are more local, the more universal it becomes. A small me my father told me I was world and I believed it, I see no boundaries or delimit, I just think the culinary boundaries. I empathize much with anything that happens in the world. We did not come from Mars, we are all land and there are more things that unite us than divide us.
This year came from France to Spain also to clean, the series Anchored .
Yes, lately clean wherever step. I go with duster and mop head are my utensils. And I have no problem about it.
Where do I begin to remove the dirt?
Oh, better not get into that heart, I know me. There is much to clean, actually many consciences. But it begins to clean mine; if everyone would be responsible for cleaning their own and to criticize others less so, everything would be much better. It is very easy to tackle and not be throwing dirt teach own closet.
Do you weigh less now that they have their name Rebocado the title of Duke of Palma to the Infanta Cristina and her husband?
I am Rossy de Palma, named by Manuel pineapple, this wonderful designer manchego, and I have no preferential treatment of any kind in Palma. Palma but I am free, free as the wind.
How the monarchy is viewed from a republic such as the French?
For there the Spanish kings succeed. The other day were in Paris and the people, delighted. I had to go to a French program and were commenting. I told them: "You who have taken the head off your king and then worship to those who come from outside". As for Felipe VI, I think that when you are born within a dynasty as it has happened to him, do not have much choice about your future: you are born there and you've found the cake. You can renounce the throne but it is difficult.
Biography
Rosa Elena Garcia Echave (Rossy de Palma) was born in Palma de Mallorca 50 years ago. He began his artistic career in the early eighties as vocalist group Worse impossible. A few years later he jumped to the interpretation of the hand of Pedro Almodóvar, thanks to the movie Women on the Verge of a Nervous Breakdown . Since then, he has worked as a high school in several films, many French productions. Currently participating in the Spanish series Anchored (Telecinco) and Thursday will hit cinemas with Do Not Disturb.
Rossy de Palma: "The French beheaded their king but now worship ours"
Source: english
June 24, 2015