A medium ensures that is the game that will resurrect Nintendo.
In 2017, Microsoft announced the cancellation of Scalebound, an ambitious project of action role-playing developed by PlatinumGames directed by Hideki Kamiya –Bayonetta, Devil May Cry, Okami. Now new rumors raise a turn a bit unexpected: it would be in motion and in exclusive for Nintendo Switch.
Yesterday I discussed that according to Imran Khan, a senior editor of the magazine Game Informer, Nintendo would be working on resurrect a game "dead and buried". Much has been speculated with this title because Khan does not offer any clues, but in the last hours have appeared rumors that point to Scalebound. Nintendo Insider told by their sources that this game PlatinumGames project is the risen christ, and that now would be an exclusive game Switch.
"Due to the involvement of original Microsoft it is not clear if the development has been completely restarted, or at least it has reduced the ambition -now that it's intended for a portable console and less powerful-" the article says. "I think that Scalebound is the game 'that was thought dead and Nintendo resurrects' mentioned by Imran Khan in Kinda Funny Games the last week. However, there is the possibility that he heard about another project risen."
Video: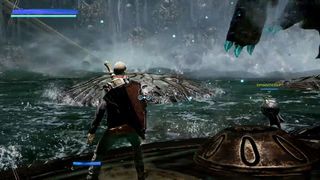 Another source believes that it is real
Alanah Pearce, a former editor of IGN, has posted a message on Twitter about this rumor: "told Me that Scalebound to-be-launched -but not as an exclusive Xbox – by someone who I consider quite credible in June of last year, but didn't believe him. It may be true."
I was told Scalebound would still come out (just not as an Xbox exclusive) by someone I consider fairly credible all the way back in JUNE last year, but didn't believe them.
Maybe it is true 🤷🏼‍♀️. https://t.co/kqvry3CSab— Alanah Pearce (@Charalanahzard) 18 February 2019
The old producer the doubt
JP Kellams, a former producer of Scalebound left the studio shortly after its cancellation, does not believe these rumors, although he admits that "I don't know. I no longer work there and I have not heard anyone talk about this, but I doubt that it is real".
Shit. I don't know. I don't work there anymore and haven't talked to anyone about it, but I'd highly doubt this is a thing. https://t.co/lM1iypFzwy— JP Kellams (@synaesthesiajp) 18 February 2019
Kellams says that at least when he worked on the project, the license was to Microsoft, and reasons that you don't see much logic in to resurrect the game due to the differences in hardware. "At this point, it makes more sense to make a completely new game. It is not that Scalebound was a license dear. Never had the opportunity to be".
Me too. That and hardware differences. At that point, it makes more sense to just make a brand new game. It's not like Scalebound was a beloved IP. It never got a chance to be that. https://t.co/K9My9eYPhz— JP Kellams (@synaesthesiajp) 18 February 2019
Scalebound it was a hack and slash with dyes roleros that stood out for the link of your protagonist with a dragon. Together, they might combat, and collaborate to derrortar their common enemies; at some times it would work with artificial intelligence -giving orders – but also we could mount and fly on it.
Rumor: Scalebound would be in development for Nintendo Switch
Source: english
February 18, 2019