Thanks to its series Galaxy a, Samsung seems to have found a good reef in the mid-range market, which has much more competition which will find its top model each year. The brand position has become such an important aspect as the hardware itself to a large group of consumers, but it was not enough to offset the poor work of the Galaxy Mini and the bad reputation of Ace.
So well had to go the course change that this year, South Koreans have resorted to a update of the four models in the series without changing even its name. Our fellow Engadget offered their analysis of Samsung Galaxy A5 2016 and now we have the turn to pass the magnifying glass to the smallest and simplest model, the Samsung Galaxy A3 2016.
Technical Specifications of Samsung Galaxy A3 (2016)
Although the continuity is there, there are many changes between the first and the second edition of this model. Beyond the expected design update, which I will discuss a little later, version of 2016 improved only slightly everything offered by the 2015, but in any case we are talking about a change category or assimilation of modern technologies.
SAMSUNG GALAXY A3, MAIN SPECIFICATIONS

physical Dimensions

134.5 x 65.2 x 7.3 mm
132 grams

Display

4.7-inch Super AMOLED

Resolution

720 x 1280 (312 dpi)

Processor

Qualcomm Snapdragon 410 1.5GHz 4-core

graphics Processor

Adreno 306

RAM

1 5GB

Memory

16GB (expandable with microSD cards)

Operating System

Android 5.1 Lollipop

Connectivity

Wi-Fi 802.11 b / g / n 2.4GHz, Bluetooth 4.1
Nano-SIM (4FF)
4G LTE (category 4)
GPS, Glonass

Rear Camera

CMOS 13 megapixel f / 1.9 with flash
FullHD 30fps Recording

Camera Front

CMOS and 5-megapixel f / 1.9

Battery

2,300 mAh non-removable

Other

NFC Reader
Samsung KNOX
Samsung S-Voice

reference price

$ 299
a clear example of this small change is point to point in its processing capacity. Both models forget the house Exynos models and mounts the more modest SoC Qualcomm Snapdragon 410 64-bit, but with increased clock speed up to 1.5GHz on the new processor. There is also an increase in RAM, 1.5GB from 1GB to more than necessary to not remain very limited, especially at a time when it begins to require a minimum of 2GB to keep up.
No changes or your graph, the Adreno 306, or 16GB of storage capacity, but the possibility of expansion through microSD, because of a cap of 64GB had doubled, 128GB.
However, Samsung has itself chosen to keep the hardware peripherals. Starting with the Super AMOLED screen, slightly stretched to the 4.7-inch against the 4.5 last year. In return, they have a degree more resolution resulting in an increase in pixels per inch.
Something more power and improved screen have required an increase in the battery. But it is also at least 1,900 mAh to 2,300 mAh, as if they had done it just to compensate. We'll see later if it is sufficient or if it falls short.
There is also no additional extra even the fingerprint reader so fashionable is getting in recent months and, therefore, could be better marked differences between models. It is appreciated, it is true, improved camera, both the resolution and the opening.
The Samsung Galaxy A3 2016 is presented with its, own "greatest" elegant and defined look, but it has the right to compete. Now it seems that the size also matters so small, this mobile comes to a spectrum little crowded.
Design Class S in heavy metal
As was the case with the first batch, all models of series 2016 has an identical design. In this case, the style chosen is almost clonic adaptation of its high-end of last year, the Galaxy S6. This is how they recycle an associated design without compromising the best innovation of S class this year.
Where most noticeable is the back and contours. If you look just below two notes difference, except for the placement of the microphone right next to its single speaker. It is not a good position and you'll end up plugging the finger when playing or watching video. Inherits its three metal buttons on both sides, short haul and firm click. But it differs in the tray for cards because in this small microSD and microSIM model are placed in column and row not.
Behind its flat surface only slightly curved at the edges and is topped by a layer of Gorilla Glass 4 which provides packaging but enough dirt. Stands and much within its chamber, square-shaped with rounded edges. Beside him, a little flash in the same way that distinguishes the elongated double the Galaxy S6. The camera reaches far beyond the frame of the phone and that is a risk for scratches. And although supported is quite stable, swings and slides a bit if done some pressure on some edge.
This minimum bevel of its edges facilitates catch you a lot and access to the entire screen with one hand because there is nothing that key anywhere.
Its front face is a mark of the house, especially that big button main menu, slightly highlighted in volume and also thanks to a chrome rim. Its 4.7 inch screen makes the most of its small size, a ratio of use of frontal especially appreciated in small devices.
In the gallery are some examples of the effects of the application, the difference between applying and not applying HDR or capturing light depending on the focus point.
Elegant and fine, compact and solid, even robust thanks to its metal body and its crystalline unibody claddings. However you pay a price, 132 grams of weight. It is not too much lower than the big phone, but falls very direct in a small terminal and leaves you with the constant feeling that heavy.
Good screen, just resolution
Super AMOLED panels are able to give good results on the big screen like a Galaxy Tab and in the small of a smartwatch. In this case, 4.7-inch yours reminds us rather to another era of high-quality displays.
Perhaps because fit your size or perhaps save, but the Galaxy A3 reaches only HD resolution, 1,280 x 720 pixels, facing the FullHD the rest of the series. It is sufficient to provide a density of 312 dots per inch which results in good image sharpness, more accurate, though not excellent. Suffers when compared with the best, but do not lose sight that this is a little one midrange, and its rivals if placed on top of the table.
as it is completely true to its name is in exposing colors, vivid and powerful, something saturated and we have used this type of panel. What better way to get the virtues that a game Rayman Adventures, so animated designs engine UbiArt express themselves in the best possible way.
He does not go very left over, however, the level of shine. The maximum illumination. It is not a problem of space, since part of some initial very low values ​​which are very useful for reading in situations of great darkness, but his ceiling is short. Yes, thanks to the quality of the screen there is no problem in using the mobile under all lighting conditions, even under the midday sun. For clarity of image and lack of brightness, not so much for stain resistance.
Performance and benchmarks Samsung Galaxy A3 (2016)
Here is one of the fun facts. This looked like the year of the relaunch of the Exynos for Galaxy A3 2016 Samsung has decided to stay with veteran SoC Qualcomm Snapdragon 410. As we have seen is not the same version that mounts the model 2015.
| | Samsung Galaxy A3 ( 6) | Samsung Galaxy A5 (6) | Motorola Moto G (Gen. 3) |
| --- | --- | --- | --- |
| AnTuTu | 36,390 points | 43,203 points | 22,406 points |
| Quadrant | 14,764 points | 18,721 points | 11,583 points |
| Geekbench 3 (single / multi) | 692 / 2,154 points | 989 / 2,593 points | 533 / 1,640 points |
Surprisingly, only with that, the Adreno 306 graphics and 1.5GB of RAM is more than enough. The small A-series is well balanced and manages to give a good performance use. It goes to fluid in the opening and management of all types of applications and fast startup and shutdown, especially considering that you have to carry all the weight of the Samsung Touchwiz UI.
The small A-series is well balanced and does give a good performance for everyday use.
you can almost unhurried, games, office applications and players alternating in multitasking while other processes are performed in the background, such as downloading and installing updates. Although suffers a bit in games of great polygonal load as Asphalt 8 or Moder Combat 5, beyond a few seconds of foreseeable delay in loading and decompression, just there are some slowdowns or drops fps.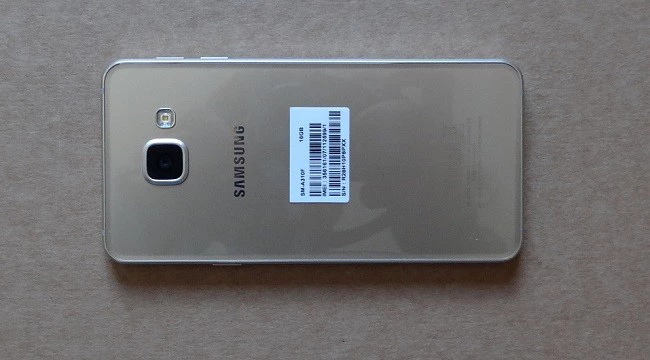 One thing that can be contradictory is the 16GB of memory available, with everything that brings installed serial remain in just over 10GB free. By targeting the high-end can be a small amount, but when compared with the mid-range is not an extraordinary thing, it is rather ordinary. Unlike the 2015 model, this can extend the data capacity up to 128GB.
We doubt how far would arrive with their 2.300mAh battery and the response is very positive. is able to hold more than six hours of use at full capacity, with audio and video playback, gaming sessions, work with excel and use of the camera. All this, with the screen brightness to maximum. And he is even more effective when a slight use of it, such as navigation or messaging, or when in standby done.
It takes real effort to merge the entire battery in one day and there will hold a pair problem if giving too much use. Too bad that does not include fast charge and take more than an hour to recover completely.
With Lollipop but without excess Touchwiz
Although it has always been said that all Galaxy A 2016 series will receive updates to Marshmallow, ending March even we continue with Android 5.1.1 lollipop. Not a good introduction to terminals that are supposed to come to mend the mistakes of the past.
Touchwiz is no longer what it was, in a good way. At least it's not that heavy applications that will not let you manage your phone at home set. But Samsung remains committed to get you through the eyes set all their applications and no doubt look for any opportunity, as the Galaxy autopromocional Essentials widget that comes by default. It's no big deal and eliminated to the minimum, but to my mind paying hundreds of euros for a terminal to come up with blatant advertising.
Another thing is that some of your apps worthwhile. For example, S Voice improves Google Now in the ability to wake the phone when it is locked. In addition brings its own calendar, shop, messaging, camera or gallery apps. But other typical as S Healt are not installed by default. If they are those of Microsoft Office both basic routine of Google package as Skype, and. It is best that virtually everything is uninstallable or deactivated.
I or I like the wallpaper or the set of icons in this version of Touchwiz, but in the store there are plenty to choose free or paid. Despite owning application drawer, by default all downloads are spreading across the desk. And not just discreetly, on the last page; On the contrary, they are occupying senior positions.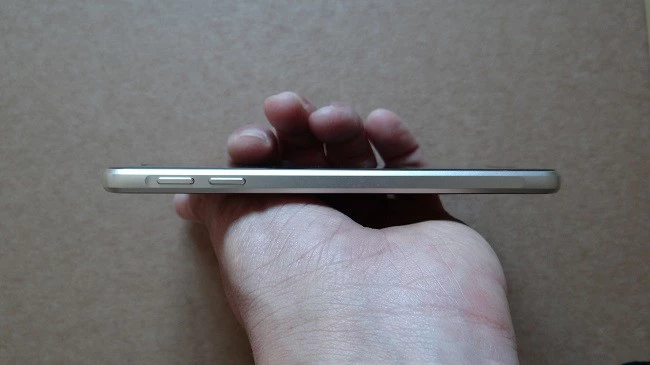 As we have seen in other models, this version of Touchwiz invites configure both the quick settings menu notification as its own series of rapid adjustments to the settings menu. It is even easier than with other launchers and that is appreciated because it saves a lot of time if, for example, you're a freak battery saver like me.
Again, the line Samsung Galaxy A3 Software 2016 is conservative, while he is not even updated with Android 6.0. But it is at least sufficiently thinned as not to obstruct the operation of the phone and behave with complete fluency except for some heavy transition.
Cameras to take at specific times
If you need to find a weak point this smartphone compared to is your best, most own main chamber of the midrange. Its 13-megapixel lens (for catches in 4: 3, to make 16: 9 the maximum is 9.6 megapixels) only it performs best when the lighting in your favor. However, you lose lot of detail in the area outside of the focus area.
The system autoenfocado and shooting is fast, but is unable to grasp any object moving over short distances, even if it moves slowly. This is one example among many, with Nela walking towards my position at a normal rate while waiting completely still.
Pretty best is the front camera, especially when compared with that usually offer mid-range mobile. Exceeds image quality and the effect of beauty applies postprocessing quickly and effectively. Yes, it is the only model of the Galaxy A series without flash forward.
Better known is the camera application because it is the same that brought the Samsung Galaxy S6 / S6 Edge. Agile, quick and easy with all the options to find, both professionally modifications, although only the most basic lack shutter speed, and the effects that comes standard,. As Marshmallow, it allows launching the application by double-clicking on the side button.
photos-with-a-galaxy-A3-6
href="https://www.xatakandroid.com/galeria/fotos-con-un-galaxy-a3-6/2″>
href="https://www.xatakandroid.com/galeria/fotos-con-un-galaxy-a3-6/4″>
The opinion of Engadget
I wondered at first if unknowingly, Samsung had built a small phone but quality with which also compete head to head with iPhone in a segment that seems to come into play, not by size but by being the little one from each house ( decent quality). At the time of writing still we do not know what performance is giving the Apple phone, but we can say that this gives a good performance.
For those costing 299 euros offers a design, a screen and a battery of first level, with performance and resolution only a step below. In its segment it is going to be improved in both camera and software, because it is very light Touchwiz is not acceptable at this stage appear with Android 5.1. The overall experience is satisfactory and next to the A5 form a highly recommended for anyone who wants to have Samsung as synonymous with quality but is not willing to spend what it costs the series S.
duo
8.0
Pros
very tight consumption that extends much battery life
a Super small AMOLED not detracts nothing
refined design makes the screen
very accessible response very fluent in all kinds of situations
against
Feeling excessive weight in hand
Stalled in Android 5.1
The camera only responds well in optimal lighting conditions
the phone has been given for testing by MaxMovil. You can see our policy of relations with companies
–
news Samsung Galaxy A3, analysis: an efficient substitute for lack of Galaxy S6 mini was originally published in Engadget Android by Sergio Figueroa.
Engadget Android
Bibliography ►
Phoneia.com (April 4, 2016). Samsung Galaxy A3, analysis: an efficient substitute for lack of Galaxy S6 mini. Recovered from https://phoneia.com/en/samsung-galaxy-a3-analysis-an-efficient-substitute-for-lack-of-galaxy-s6-mini/