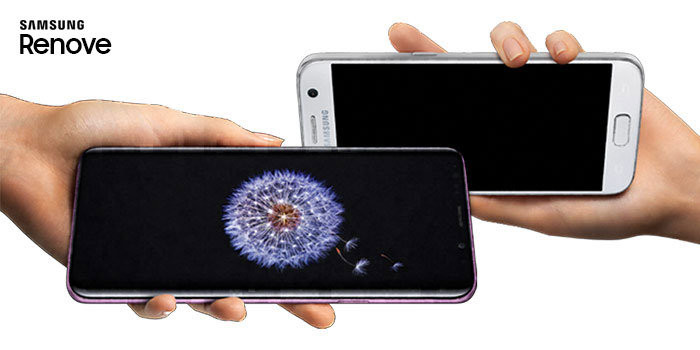 Samsung has already introduced their new flagship. The Samsung Galaxy S9 are available for pre-purchase at an official price of 849 euros for the standard model and 949 euros for the model Plus. However if you want to buy them at a lower price you must to know that Samsung has a plan renove by which you can get large discounts when you deliver your mobile.
This plan Samsung Renew is available from partner stores and also from the official shop of the manufacturer. We will explain to you how it works and how much money you can get delivering your current device.
The first step to get the discount is to buy the Galaxy S9 or Galaxy S9+ from the official store. the once the device has been purchased will process the renewal.
The next step is to access the page of Brightstar and follow the steps given there. Basically add the IMEI of the device that we will deliver to you these tell us as soon as it is reviewed. Once we accept, we will enter the amount of money in the account number that we have indicated.
These are the prices that we have depending on the model that we are going to deliver:
Samsung Galaxy S8+: 376 eur
Samsung Galaxy S8: 336 eur
Galaxy S7 Edge: 231 eur
Galaxy S7: 188 eur
Galaxy S6: 165 eur
This assessment is based on a model in good condition and must have features that Samsung Trade-in offers up to 376 euros discount with the Galaxy S8+ but in a promotional manner. the From the 25th February until 15 march 2018, we have an incentive of one hundred euro, already included in the numbers above, by the delivery of the terminal Galaxy.
More information | Samsung Renew
Xataka Android | Samsung Galaxy S9 and S9+: effectively business as usual on the outside, more muscle inside and a camera that will give much that to speak
–
The news Samsung Renove: this is how it works the system of discounts for the Galaxy S9 to deliver older mobile was originally published in Xataka Android by Enrique Perez .

Xataka Android
Samsung Trade-in: how it works the system of discounts for the Galaxy S9 to deliver old mobile
Source: english
February 25, 2018