Regardless of the personalization layer bearing the devices of each brand, Android has numerous functions that pass unnoticed for many users, either because it does not know of their existence, or because it does not have used never.
Of all those tricks and tools provided by the operating system of Google, we will concentrate now on 'Fixed Screen' or 'Set display' (Screen Pinning, in English), a solution very useful if you have to let someone your mobile phone with a app open and you don't want access to the rest.
What it is for and what is it to 'fixed screen'
This function, which we saw for the first time in Android Lollipop and then back again with Andorid 9 Foot, is an alternative to the 'guest mode', which also serves to prevent someone to whom you let the cell to see more of what you want.
Although it's called 'Setting screen' (at least, in Android pure), which makes it really is "fix" an application in the foreground and prevent that you can exit it or close it to use another, unless you enter the unlock method is appropriate (PIN, pattern, fingerprint or face).
therefore, can be useful if, for example, we can lend the phone to someone and we don't want access to our photo gallery, including the messaging application, see our social networks… In short, that we are not "cotillee". It is also quite practical when you let the mobile phone to a child so that, for example, see a video.
How to turn it to 'fixed screen' Android-pure
Although this function is not very visible to the eye (as happens with many features of Android), the process to activate it is very simple. The first thing to do is enable it, and to do this, in the case of Android pure, just go to: Settings > location & Security > Advanced > Set screen.
it Is highly recommended that selections also 'Block device to turn off' so that if someone disables the application fixed (something, by the way, it's pretty simple), you need to enter the password or method of blosqueo usual before you can continue using the mobile.
When you have enabled the function, the next step is to activate it, and to do this, go to the recent apps by pressing the square button on your Android and tap on the icon of the application you want to set (in the top centre of the preview of your content).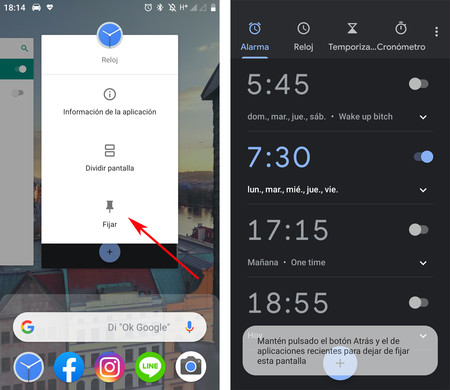 Among the available options, will be that of 'Fixed' with a thumb tack; tap it and, thereafter, shall be fixed that app in the foreground. To turn it off, you'll have to press the back buttons and recent apps, and enter your unlock method.
How to turn it on at other layers
Except for some layer that does not have this option, like MIUI (Xiaomi), the most you can activate this function by following a very similar process to the described above in Android pure; simply, as we will see now, varies any term to the other.
In mobile Huawei, with EMUI, the steps to enable it are Settings > Security and privacy > additional Settings > fixed Screen. As we can see in the screenshots, EMUI also enables us to 'Ask for password lock screen to cancel', let, what in Android pure was 'Lock device to disable'.
The process to set up an app is also very similar, albeit simpler: just go into recent apps and touch on the thumb tack that appears in the center of the bottom. Yes, in this case, hold down the backspace key or 'Return' to clear it.
If we go now to Samsung and their One UI, we note that the function is available within Settings biometric and security – > Other security settings and that, in this case, is called a 'Fixed window'. It also allows us to set if we want to require a PIN before you turn it off.
To activate it, simply, once more, open the recent apps, click on the icon of one of the apps and select 'Pin this app'. To turn it off, as was the case in Android pure, you must press the keys backspace, and recent apps.
As we have seen, the process to stop fixed an application in the foreground, you call 'fixed screen' or 'fixed window', it is very similar on all the layers that allow it. It is not something that we use very often, of course, but it does not hurt to know this function for the if we were to use it at some point.
–
The news 'Set screen' on Android: what it is, what it does and how to activate it was originally published in Xataka Android by Laura Sexton .

Xataka Android
'Set screen' on Android: what it is, what it does and how to activate it
Source: english
December 31, 2019