In the photos we have thousands of photos but sometimes take too much. It is possible that you have a lovely picture that it occupies a lot of MB, but want to send it and you don't need so much quality. For this there are tools that allow you to optimize and compress photos. And fortunately are also in the form of Android application.
If what you want is not spending so much data or want to upload it to a website or just want to reduce the size of the photo, here is six applications in order to reduce the weight of the photo, compress and ultimately earn a few megs at the cost of losing slightly in the quality of the image.
I Already warned that there will be no big difference in quality as it is mainly are based on removing metadata is not used and eliminate processed. In many cases, to the naked eye will look the same and many of their uses the quality loss will be offset by the reduction of weight obtained.
JPEG Optimizer
The first application of the list is our recommended. It is JPEG Optimizer, a new app very simple with aesthetic Material Design that allows us to open the photo, choose the quality factor, reduce noise, and choose the specific resolution that we want to transform the image. Also allows you to select several photos and we sample at large.
Photo Compressor
Another popular application is Photo Compress 2.0 has a free version without ads that allows you to reduce up to ten images at once and another payment of 0.99 euros, without limits. You can crop, compress, and share pictures. There is also the option of keeping the exif metadata.
Reduce the photo
To reduce the photo we have an application intended to reduce the size of multiple images at once. The idea is that when you crop the image keeping the quality but also applies a very good reduction in your weight to change the resolution. In addition, it has that design point which is always appreciated.
Reduce Photo Size
A more up-to-date of what your design made us think. We chose the image, we choose from the settings the percentage of reduction and we accept. You do not have a lot of mystery and is translated to multiple languages.
Cram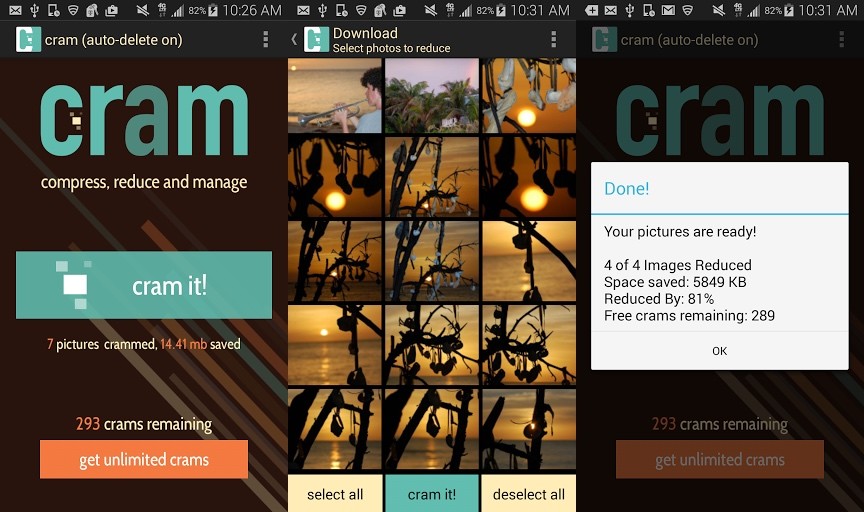 Cram is an application that promises to reduce the size by up to 60% without affecting resolution and maintaining the same levels of quality. It allows you to compress 300 photos, although with an app purchase from 1.99 euros we can remove this limit. But sharing a tweet they will give us one hundred more. It works well although it has too many messages that distract us from what is important.
Photoczip
These applications allow us to reduce photos of several megs of images only a few Kb. Supports images in JPG and PNG formats, allows you to choose if you want to delete the metadata, allows us to multiple select and you can even add watermarks to multiple photos. Is free and contains no advertising.
In Xataka Android | How to share your Google library Photos with other person
–
The news Six applications in order to optimize and compress photos from your Android mobile was originally published in Xataka Android by Enrique Perez .

Xataka Android