Respawn talks about their design, how they got to the expressiveness and the importance of these robots in the series, where we have seen C-3PO, R2-D2, and BB-8.
Respawn Entertainment and Electronic Arts have shown a new video of Star Wars Jedi: Fallen Order for the PC, PlayStation 4 and Xbox One, which launches November 15. On this occasion, the developer is focused on showing BD-1, a robot that will accompany Cal Kestis during your adventure. BD-1 is original and has been created for the occasion, does not appear in any of the movies.
In the video we see several scenes featuring the robot, but Respawn also speaks of his creation, how it fits into the Star Wars universe and the way of expressing emotions in this robot. Fellow robotics have been a constant in Star Wars, whether they are C-3PO, R2-D2 or BB-8, and BD-1 have imitated the gestures of a small dog. You can also upload on Cal, inspired by the scenes of Luke with Yoda on Dagobah. Of course, BD-1 will be very useful to scan the environment, to recover health, and more, so that is key in the gameplay.
Video: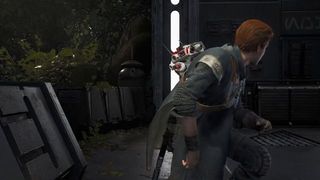 dates close to Star Wars: The rise of Skywalker and The Mandalorian
Star Wars Jedi: Fallen Order could be one of the most successful games of the year. Not only promises, as os we have on our impressions, but will arrive on dates very special for fans of the license. On November 12, premiering the first episode of The Mandalorian in the new service, Disney+, a series highly-anticipated following in the footsteps of a lone gunman in the far reaches of the galaxy, away from the authority of the New Republic.
The main dish is Star Wars: The rise of Skywalker, the episode IX, which opens in cinemas on December 20 and puts an end to the story of the Skywalker started by George Lucas in 1977. J. J. Abrams directs this close starring Daisy Ridley, Adam Driver, John Boyega, Oscar Isaac, Domhnall Gleeson, Keri Russell, Lupita'nyong'o and Dominic Monaghan, among others. Today has shown the trailer end.
Star Wars Jedi: Fallen Order details BD-1, our robotic partner in this adventure
Source: english
October 23, 2019