Steam has suffered a fall in their services which is giving problem to access the store, chat rooms and games to a multitude of players around the world.
Update 20:15 – it Seems that the problems have begun to disappear and that users of Steam have begun to re-access the service but are still found some flaws in the various systems.
Steam has fallen. For several hours a good handful of users have reported that they have ceased to be able to access the store of Valve, and to services such as chat with friends or the community, a problem that not only is present in the web but also has moved to the application of Steam that many of us have installed on our computers.
Referring to the famous web DownDetectorm in which we can see reports in the direct of users who have problems with online services like Steam or WhatsApp, we can see that the problems with Steam have started around 17:00 Spanish time, with a large number of users reporting bugs both to enter the service as to play normally.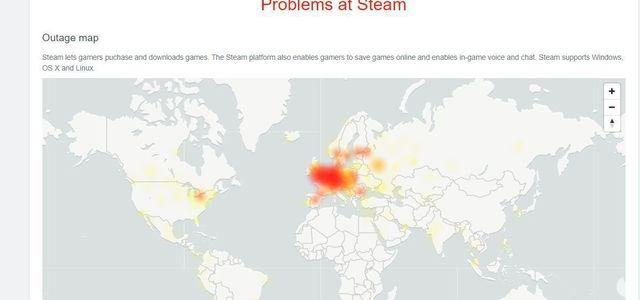 in Addition, looking at the map of incidences of the same web most of the failures seem to focus on Europe while in north America they have not been detected incidents. Another portal that tracks the state of Steam, Steam Status, has also been informed of several errors in the services of the store Valve.
By the time it is unknown the cause of the fall of Steam since Valve has not made a statement about it, but we will be updating the news as we go checking what's new on the problems with the service.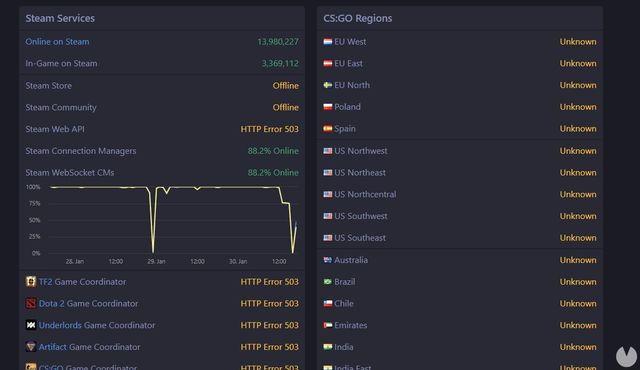 While you happen to these problems, many users of Steam have gone to Reddit to talk about the problems they are encountering, and in some cases, they have insured that have been found with a variety of problems of lag in their game online in games from Valve such as CS:GO or DOTA 2.
The fall on Steam or other services, a common problem
unfortunately, in the times in which be connected to the network is essential to it is not uncommon to find us temporary declines of all types of services due to crashes of servers, problems with telephone companies, DNS, and other technical aspects.Without going too far in the past month of November Netflix suffered a fall in the world and later, Facebook, Instagram and WhatsApp were found with a similar problem that had to its users guessing for a few hours.
Steam has stopped working for the majority of its users for reasons unknown
Source: english
January 30, 2020