We continue reviewing the games based on the work of Akira Toriyama.
Dragon Ball FighterZ was one of the big announcements of the past E3, and after its warm reception in Vandal we want to celebrate it with the Summer Dragon Ball, a review of the most important games based on the manga by Akira Toriyama, which we will make from July 1 to August 31,.
Today I talk about a new game, and these are the titles that I've talked about so far:
Dragon Ball Z: Budokai (2002)
Dragon Ball Z: Ultimate Battle 22 (1995)
Dragon Ball Z: Super Butoden (1993)
Dragon Ball Z: Budokai Tenkaichi (1995)
Dragon Ball: Dragon Daihikyō (1986)
Dragon Ball GT: Final Bout (1997)
Dragon Ball Z: Sagas (2005)
Dragon Ball: Raging Blast (2009)
Dragon Ball Z: L'appel du Destin (1993)
Dragon Ball: Shenlong no Nazo/Dragon Ball: Le Secret du Dragon (1986)
Dragon Ball Z (1993)
Up to now all the games that we have reviewed this Summer from Dragon Ball were developed for consoles, but today we are going to focus on a launch that took place exclusively for recreation and that, unfortunately, never came out of Japan: Dragon Ball Z.
The title in question was the responsibility of Banpresto, who undertook to adapt the adventures of Goku and company through a fighting game, one of the genres of fashion from the early 90's thanks to the enormous success of Street Fighter II both in the arcades and in home consoles.
Not in vain, simply play a few minutes of this Dragon Ball Z to realize how much they drank for the game star Capcom, since we proposed a series of battles with a few commands more or less simple with which we could perform different attacks and special moves.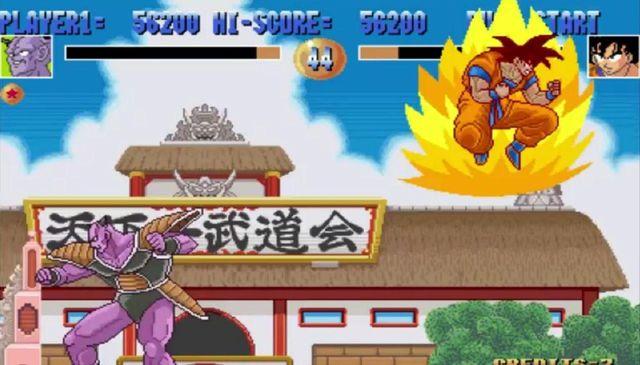 however, this title had a unique feature that distinguished it from most of its competitors: the possibility of flying. And we do not mean only that the fight could take place on land and in the air as if these were two planes of combat separated (as it was in the Super Butoden), but that we could control the flight and to move with total freedom across the stage.
In fact, a detail, very eye catching what we have in that there are numerous moves and techniques that we can only run them when we fly, so that the air became the great protagonist of the battles, leading to numerous persecutions of air and exchange of blows that reproduced with a certain fidelity to what we were used to seeing in the series.
The problem is that the game ended not make the grade, since the movement of the characters was a bit stiff and not especially fluid, and its depth of game not allowed to make too many frills and much less combos as we understand them today. Yes, at least the controls respond very well and, in the end, managed to entertain and fulfill its role of offering a good time checking some of our favorite characters.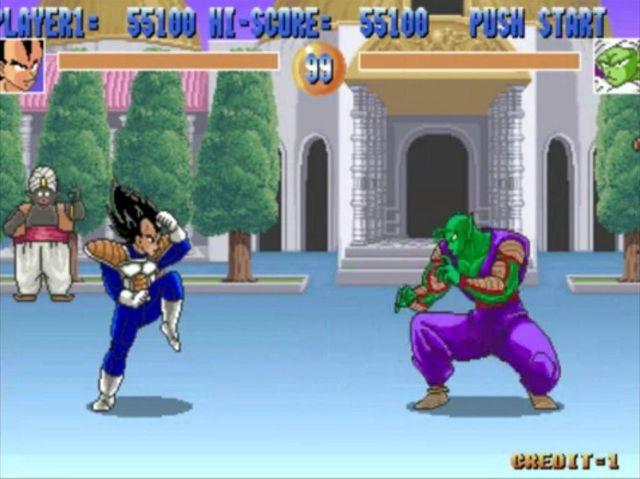 Speaking of fighters, the list was not too extensive (only about eight) and these only covered the saga Namek, leaving the template as follows: Goku (whose transformation into a Super Saiyan was an unlockable secret), Vegeta, Gohan, Piccolo, Frieza, Ginyu, Recoome, and Burter. That is to say, four villains and four heroes.
Graphically had some very detailed scenes and well designed that even allowed the luxury of suffer partial destructions according to what happened during the battle. The characters, too, were a few large sprites, and care (although artistically they had a lot of room for improvement), although their animations, and the effects of the special techniques could give more, because something as classic as a Kama Hame Ha is represented with only one ball of Ki something larger than normal, subtracting in this way something of the charm of the struggles.
finally, and by way of curiosity, to comment that the furnishing of this recreation had no way of robot, so that there were too many and the title ended up going somewhat unnoticed, despite the immense popularity that he enjoyed Dragon Ball then.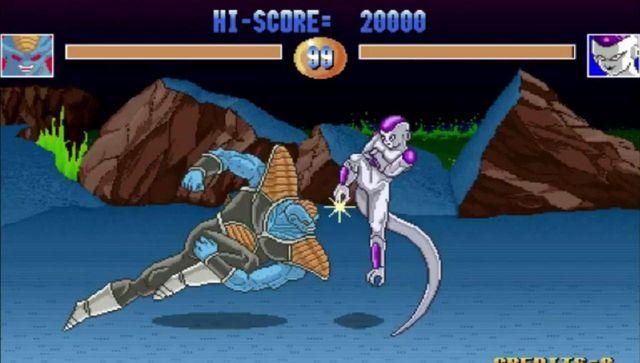 Interestingly, its sequel, which we'll talk about in a little while, took a course very different and redid their whole system of play to offer us a title fight closest to what is seen in the Super Butoden, becoming in this way in a product far superior in every way.
Summer of Dragon Ball: Dragon Ball Z Arcade
Source: english
July 11, 2017