The video game platforms and the construction is strengthened at the top of the sales charts japan.
Famitsu, the prestigious japanese magazine, has given the data pertaining to video games more sold within the territory japanese. The best selling title of the week is again in Super Mario Maker 2 to Nintendo Switch, the sequel to the cult hit Wii U that allows us to build our own levels of platforms and that also has conquered Spain with his proposal.
Video: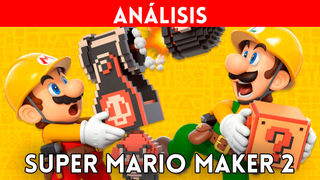 The title of the hybrid has picked up 83.204 new units in Japan, achieving the 279.000 copies in just two weeks on sale, and stressing his intention to continue adding cartridges in the upcoming dates. The big premiere of the week corresponds to the expansion of the famous MMO from Square Enix, Final Fantasy XIV: Shadowbringers, that comes to stay at the top in its edition for the PlayStation 4 with 22.260 units in the desktop.
Another of the breakthroughs in the table is Attack on Titan 2: Final Battle for Nintendo Switch and PlayStation 4, being the version for the console of Nintendo able to add 19.127 copies and the console of Sony other 4817. I leave you with the top below.
video game Sales in Japan from 1 to 7 July 2019
1. [NSW] Super Mario Maker 2 (Nintendo, 06/28/19) – 83,204 (279,357)
2. [PS4] Final Fantasy XIV: Shadowbringers (Square Enix, 07/02/19) – 22,260 (New)
3. [NSW] Yo-kai Watch 4: We're Looking Up at the Same Sky (Level-5, 06/20/19) – 19,407 (210,504)
4. [NSW] Attack on Titan 2: Final Battle (Koei Tecmo, 07/04/19) – 19,127 (New)
5. [NSW] Jikkyou Powerful Pro Yakyuu (Konami, 06/27/19) – 18,719 (94,224)
6. [PS4] Attack on Titan 2: Final Battle (Koei Tecmo, 07/04/19) – 14,817 (New)
7. [NSW] Super Smash Bros. Ultimate (Nintendo, 12/07/18) – 8,968 (3,149,468)
8. [NSW] Mario Kart 8 Deluxe (Nintendo, 04/28/17) – 8,183 (2,356,972)
9. [NSW] Minecraft: Nintendo Switch Edition (Bundle Version Included) (Microsoft, 06/21/18) – 7,234 (837,919)
10. [NSW] Splatoon 2 (Bundle Version Included) (Nintendo, 07/21/17) – 6,072 (3,105,283)
Super Mario Maker 2 is again the best-selling game of the week in Japan
Source: english
July 10, 2019