One of the applications of the time most traditional in Android, WeatherPro, has just been renewed so radical to be updated to the current times. is The interface looks completely revamped, developers take the opportunity to include modules that can be customized and the reliability of the meteorological data is maintained.
If you are someone who has used a huge amount of weather apps that sure on any of your mobile passed WeatherPro, an app that was one of the first in enter weather data, graphs, and radar animated weather. The app offered a good service, but its interface was too design something old. Right up to this week: in WeatherPro released its latest version, completely changing its interface. More clean, more bright, colourful, simple, and with added features of customization.
Interface clean and more minimalist
WeatherPro was an application dominated by the funds blue, solid colors, and the weather icons with shadows and glare. This radically changes with the latest update of the app for Android: minimalism takes the power with a certain aesthetic 'material design', white backgrounds and graphics simplified. It gives the impression that the interface is much more readable, also gone is the need to provide the maximum information in the least space. Even so, the weather data are perfectly readable, all without losing the graphic appeal.
The design change is radical and has not lost the amount of data offered by the way. It is not that WeatherPro is one of the applications of the time with more information, does not allow to select the source of your data (the app), but it is enough and to spare for offer a prognosis clear up to 14 days in advance.
WeatherPro has forecast for hours, days, includes graphical weather and also radar to map precipitation and infrared (evolution of clouds). Besides, WeatherPro includes the current time in the notifications, an option that can be disabled from the settings. And allows you to customize the modules of the front cover, although currently there are not many (forecast, radar, and wind). It also has desktop widgets.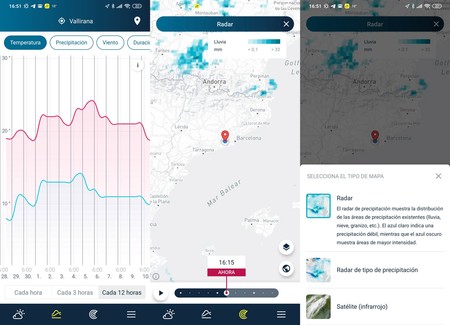 it Is a good application for more you lose on amount of data offered with other opponents, as AccuWeather or The Weather Channel. The design change has been sitting very well, it was time for WeatherPro leave behind an interface that was clearly outdated. And continues to provide the largest part of the meteorological information at no cost, although including advertisements; you can remove them with a monthly subscription of 0,99 € (also adds more options to the app). Under our point of view, with the free version is more than enough.
you Can download WeatherPro updated to Android just go to the Google Play store.
WeatherPro
–
The news The time application WeatherPro is renewed to fund with new interface and customizable modules was originally published in Xataka Android by Ivan Linares .

Xataka Android
The application of the time WeatherPro is renewed to fund with new interface and customizable modules
Source: english
April 28, 2020